Author of a new release 'The Shadow of the Dark Soul', Sukhmani Gandhi has a voice that is strong and capturing. She is a writer who is unafraid to raise her voice against the issues that are prevailing in the so-called modern India.
Our Readers would like to know a little about you, so what is that one trait in you that you feel will capture the audience?
Well, I hope I don't sound pompous.
I am currently doing my graduation in philosophy from Lady Shri Ram College. I love writing, exploring new places meeting new people. I am completely in love this city. I think Delhi has a special place in my life because it made me realize my actual potential as a person. I love this art of creation and annihilation that I guess only writers have imbedded in them.
One trait that helps me to connect with my audience is the fact that my fictional characters are real. Anyone who reads the book will find one or the other trait that they will link it to themselves.
What was your first piece of writing which made you feel, 'Ah, I write pretty well. I could write a book one day', and when was it?
My first piece of writing was 'My Journal'. I loved to pen down all my thoughts make it colorful and decorate it with pictures. Honestly, that never lead me to the conclude that I would write a book one day
What according to you is the most boring job in the world?
Anything that doesn't interest you is boring. I believe we should do things what make us feel happy and make us grow as a person rather than just working like a robot and living a mechanistic life.
Have you completely dedicated all your time to writing? Any set amount of words/pages per day?
No, I would term myself as a 'moody writer' my writings are a reflection of my emotions and are dependent on them entirely.
Tell us something about yourself and the turn of events that led you into becoming an author
Well, I love to write for a cause and change and always considered writing as a hobby until someone told me that 'you have a really powerful opinion that can influence people. Why don't you let your thought flow into the society?' I guess that was the time I took writing from a playful hobby to a serious commitment.
If not an author, you would have been…
Well, I would rather answer this question in a different way. As an author I just don't play the role of creating characters but I also live those characters, their emotions, desires, success or failure everything. So, I would rather play the role of all my characters if I had not been an author.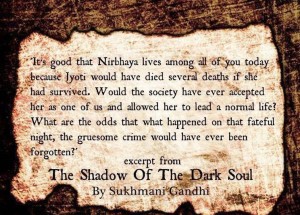 What challenges did you face from the completion of your first draft to publication and how did you overcome them?
Honestly, I did not face problems in the completion of the draft or with my publication house. Cypher publishers were very helpful throughout this journey.
Writers always complain about the waiting time from completing the book to getting it reviewed by a publisher and finally seeing it in stores… How much time did you have to wait to finally see your book in stores?
'Rome was not built in a day' Every writer needs to be patient throughout this journey the job a  writer doesn't end by just completing his/her book.
However, my book is available only online on amazon.in.
The hardest thing about writing is…
…to pen down fictional characters that seem more real than our non-fictional  lives.
Which writers inspire you? Given a choice who would you choose as your mentor?
Paulo Coelho and Rabindranath Tagore
Undoubtedly, I would choose Rabindranath Tagore as my mentor.
Also Read: Game of thrones season 6 trailer
Are you working currently? If yes, where?
Well, I am currently doing internship under Bunk pages as a columnist and E-fiction India as an assistant editor. I will further also be pursuing some winter internships soon.
Right now you are reading… 
Wanderlust by Danielle Steel
What are you working on at the minute? What's it about?
I would like to be a bit diplomatic with answering this question only because I want to save the element of surprise for my readers. The only thing I can tell you right now is that I am exploring another genre but yes I believe to write for a cause, so it will be dealing with a lot of relatable issues and will be pleasurable at the same time.
How did you find your book cover designer and editor?
My publishing house took the entire responsibility of by editing the cover designing. I was blessed with some good mentors throughout this journey.
Could you share one of your favorite reviews your book has received?
Although, unique reviews are always welcomed but the aim of my book it's not to generate unique perspectives but to inculcate a sense of responsibility amongst the readers. I can sense responsibility in each and every that I get and that makes all the reviews equally important and valuable for me.
If I still have to to pick one then it would be of Mrs. Kavita Jhala the founding member of Rising Literia. Her review was honest and motivating at the same time.
Which of your characters has been able to draw the most emotional response from you?
The character of the girl called 'princess'. I still remember the tears rolling down my eyes when I was writing.
Which actor/actress would you like to see playing the lead character from your most recent book?
Ed Westwick/Leighton Meester. I think they would do justice to both the lead characters in the book.
As a writer there are many lessons you would have learnt from life. What is the one lesson that you would have liked to learn sooner than later. 
I remember my state when the book got realized I was so eager to get book reviews and author interviews but this whole process worked slowly and steadily. 'Patience is something that I learnt lately and wish to incorporate in my life completely.
Do you have any advice for other writers? 
Just one small thing: do not write to gratify people. Just follow your heart. It doesn't matter whether it's going to be a success or a failure. What is important is the fact that you have the power of pen… so, use it for yourself. Just pen down anything…random thoughts,  moments or memories. You don't always need a rhyme scheme to write poetry.  I would just say 'write', that's all…no matter what it is and how it is.
Follow Sukhmani