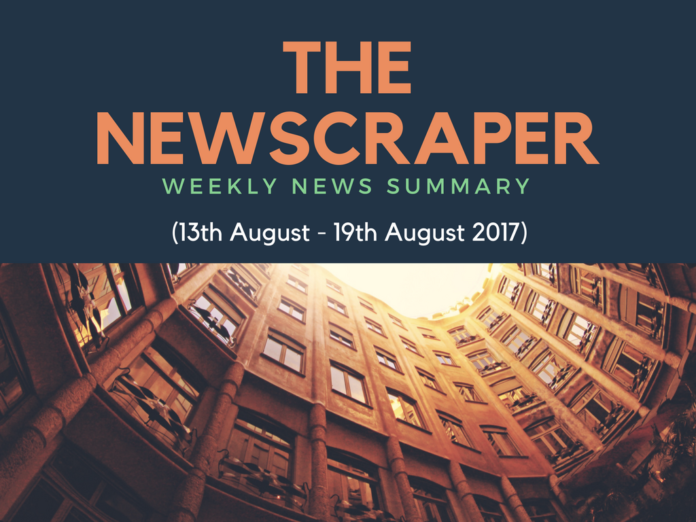 Government has asked Google, FB, Yahoo to remove links to the deadly game named Blue Whale Game. 
NATIONAL
–Yogi Adityanath, UP's CM has said that a strict action will be taken against those responsible for the death of about 70 children in Gorakhpur's BRD hospital. Scores of children have died in the city due to lack of oxygen tanks. Mismanaged hospital, state and country deserves strict action.
–President Kovind on Independence Day speech said we can expect a new India by 2022. 10 points for atleast trying.
–Indira Canteen was inaugurated "in the many cities of Bengaluru" by Rahul Gandhi and he blurts out where the inspiration came from- Amma Canteens!
-Vishal Sikka, CEO of Infosys blamed founder Naryana Murthy for his resignation. Infy stocks crashed on his resignation and infosys is on a major share buyback mission.
INTERNATIONAL
– A van drove into a busy tourist district of Barcelona on Thursday, killing 13 people and injuring almost 100. More violence was reported in Catalunya on Friday as a car ran through a police checkpoint on the outskirts of Barcelona.
– Another teenager from West Bengal kills himself from the lethal blue whale game. The game originated in Russia has killed over 150 teenagers in the country and is now targeting kids over the world. The game, which is more like a forum, targets mentally unstable kids into doing different tasks over a period of 50 days. The final task to win the game is to kill yourself. As if the world was not already screwed up!
-Flood situation in both North India as well as Nepal.The raging overflowing waters from Nepal are causing severe damage in UP, Bihar. Modi says he will provide any help to Nepal.
– Donald Trump's chief stategist resigned (or fired) from the Trump administration. This happened after a seven month stint in a post created by Trump especially for him.
WHAT INDIANS WERE TALKING ON TWITTER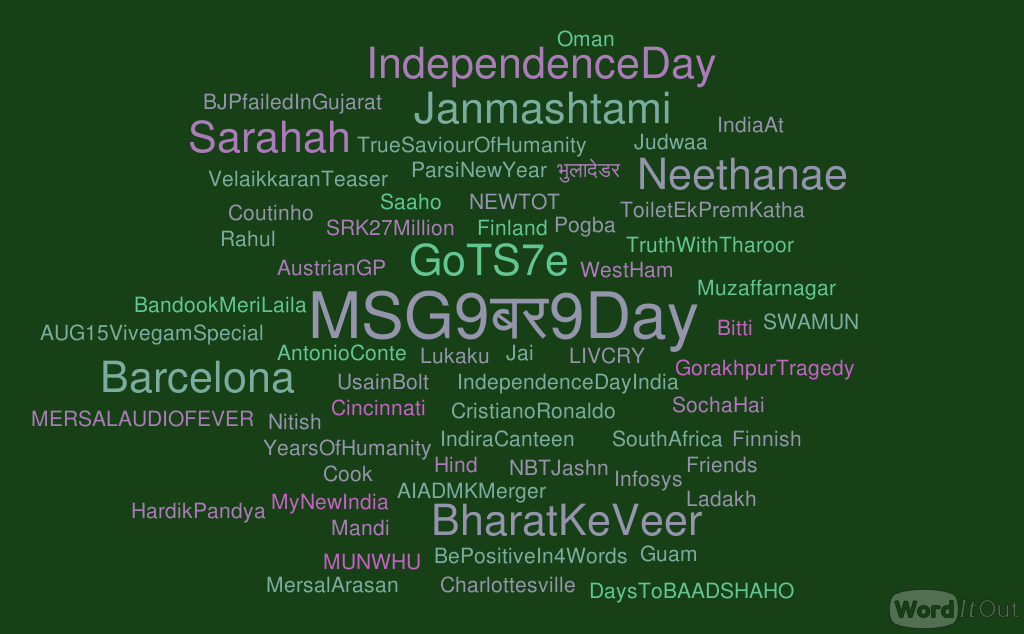 SPORTS
–India vs Srilanka test series- Test 3 of 3– India won this test as well to clinch the series victory by winning 3-0 against Sri Lanka.
–Barcelona vs Real Madrid–  Real madrid won both the matches against Barcelona last week to lift the Spanish Super Cup. Real Madrid's Cristiano Ronaldo has been suspended out of 5 matches for pushing the referee.