Nifty making a mad dash to the top mark. India right now a hot market for foreign investments.
NATIONAL
-The heavy rains have flooded Gujarat. CM Vijay Rupani wants to say "Gujarat, tula mazyawar bharosa nai ka" to the 7000 people who have lost their homes and have to be relocated.
-Idea- Vodafone Merger- The deal was the biggest Indian merger ever for $23 billion. The deal will create India's largest telecom operator, where Vodafone will own 45.1% stake in the merged entity while the Aditya Birla group, Idea's parent, will have 26%. The rest of the stake will be owned by other shareholders. Time for some heavy duty telecom wars.
-Do you want driverless cars in India? Not gonna happen anytime soon. Not unless the current union transport minister leaves. Why? Because union transport minister Nitin Gadkar says the driverless cars will create unemployment which India is trying to arrest.
-Nifty has been making a mad bull run- closed at 10,000 mark. Experts are expecting for a correction soon.
-Nitish Kumar, Bihar CM (from Janta Dal Party), resigned as a protest against corruption and joined hands with friend-turned-foe-turned-friend BJP. Another BJP (Modi) Victory. Nitish and Sushil Modi swore in again as CM and deputy CM with BJP backing.
INTERNATIONAL
-Amazon's founder, Jeff Bezos briefly became the richest man in the world, beating Bill Gates. But then Gates got back to the top when amazon share price fell. Pssst… there is a rumor that Russian President is actually the richest man.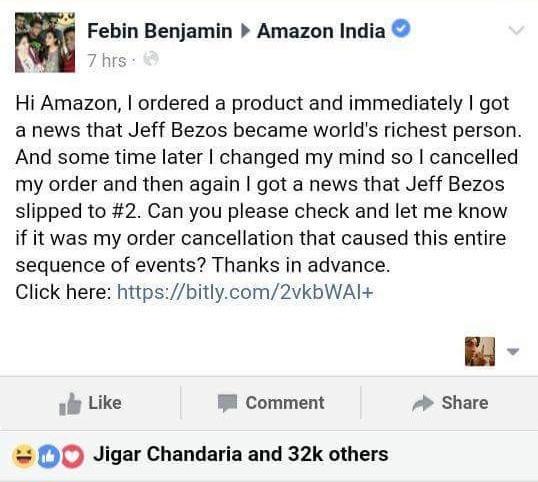 -USA will not allow India-China Standoff on Doklam. Says, China has little to gain with its ambition to build a road. It would be better off without the fight since India has the support of US and Japan.
WHAT INDIANS WERE TALKING ON TWITTER
SPORTS
-Indian Women's cricket after reaching the World Cup Finals are finally getting the much needed attention.
-India vs Srilanka test series– Test 1 of 3- India won by 304 runs.