When you think about Food Truck what is it that comes to you mind? Hollywood movies? Food? Young vibrant energy?
Well, that's Road Kill for you- One of the best catering trucks in Bangalore!
The trend of food trucks has been catching pace in the city as it is fresh, new and penny-wise. So get ready for kitchen on wheels. Your yummy food is being served right at your doorstep, and that's definitely something to look forward to.
If you're just done with your classes, or on a break from office, or catching up with your buddies over a smoke, or want to fill your tummy up with some delicious bites of amazing food, Road Kill is your one stop destination.
Here are answers to all the questions a foodie like you may have
1."What cuisine does Road Kill offer?"
Road Kill serves authentic Anglo Indian Cuisine along with a tinge of continental. They are the only food truck offering all three varieties of meats-Chicken, Beef and Pork. Yumm!
2. "I'm on a tight budget right now. Is it easy on the pocket?"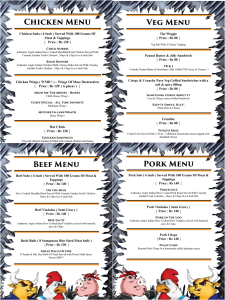 Of course! Get amazing subs, chops and vindaloos for minimal prices.
Tummy khush aur wallet bhi khush!
3. "What makes their food so special anyway?"
What makes their preparations lip smackingly delicious, are the unique homemade Blends,spices & sauces that Kerina Pereira (Road Kill's Chef and co-founder) uses a recipe passed on from generations through her Irish and Portuguese ancestry. All this at such affordable prices
4. "Ummm… How hygienic is it? I wouldn't want to fall ill."
The food truck which was made by combining parts of three different models of cars by FRK racing, and is built to be sturdy and tough. The inside of the truck is lined with 304 stainless steel which is completely hygienic. 'Being foodies ourselves, we make sure that the food we serve is of top quality, taste and complying standards', says Varun Srikanth, founder of Road Kill.
Also read 12 Must Visit Cafes In Bangalore
5. "I want to know more about them."
Founded by the entrepreneur couple, Varun Srikanth and Kerina Pereira who have been together for over 4 years, Road Kill made its launch just a month back and is on its way to success and glory.
You have to try their Chicken Wings also called Wings Of Mass Destruction and their French Fries which breaks the monotony of the fries from McD or KFC. Watch out for the three mascots of Road kill-The Bull (Mechanic), Rooster (The Chef) and the Hog (The Rider). The visionary founders soon plan to open a cafe in Bangalore, most probably in Kormangala.
5. "Where and when can I catch them?"
On Weekdays ( Monday To Friday )
12:00 pm to 3:00 pm – Opp. Toshiba & Radio One Office , Koramanagala 1st Block , Bangalore – 560034
6:30 pm to 11:30 pm – S.T. Bed Layout Entrance, Koramanagala 4th Block , Opp. Seva In Action, Next To Bethany Special School, Bangalore – 560034
Weekends ( Saturday & Sunday )
11:00 am to 3:00 pm – Indranagar ,6th Main , Opp. The Only Place, Bangalore
6:30 pm to 11:30 pm – S.T. Bed Layout Entrance, Koramanagala 4th Block , Opp. Seva In Action, Next To Bethany Special School, Bangalore – 560034
6. "How do I stay connected with them?"
Road Kill already has many followers on Facebook. Like them to find out about their schedules.
You never know, they may be close to you right now. You wouldn't want to miss a chance to grab their yummy, easy on the pocket and filling food.
Say Hi to the Road Kill-ers and book them for private parties:
Varun Srikanth
Direct : +91 98451 11955 | Board : +91 80 411206017
Email : varun@caferoadkill.com
Facebook : https://www.facebook.com/roadkillbangalore