If you are wondering what the wedding colors for 2018 are, you should keep reading. You need to know the wedding colors for every season of the year if you have not picked a wedding day yet. Here are the 2018 wedding colors by season:
Summer Colors
Silver, Ivory, and Gray
Silver is cool and sleek on a hot day, so you should consider it. If you want to add some punch to colors that are neutral and dull, you should opt for a sweet melon orange. This color will have you thinking about the best hours of a summer sunset. The combination of silver, custom gray and ivory will create an air of sophistication that will be perfect for a dreamy industrial wedding.
To make your wedding reception look chic, you should consider throwing in some greenery, metallic and copper accents, light floral, and bulb lights.
Mauve, Green, and Gold
Sage green is a sophisticated color that continues to trend from one year to the next. To make your wedding look feminine, you should mix white, sage green, and a striking rose color. However, if you want to put a modern spin to it, you should add gold to this color palette.
Spring Colors
Peach, Sugar, and Plumeria
Jewel tones such as rich peaches and plumeria make for a fiery color palette after surviving a cold winter. These deep hues add some depth while fitting together to create an inviting and warm atmosphere. To keep the colors harmoniously sweet, you can add neutral colors like sugar. This dynamic palette adds just the right amount romance and drama to city and desert weddings.
Gray, Teal, Azalea, and Blue
Azalea, which is a hot pink shade, brings life to a dull event. When you pair it with teal, you will add a natural balance to the color palette. You can keep this color combination monochromatic with gray shades to maintain a chic aesthetic, which is ideal for winter-spring weddings.
Gray, Green, and Ivory
This moody color combination is fresh, soothing, and nature-inspired. Shades of ivory, gray, and green create a palette that is easily adaptable to any budget and style. If you think that the colors are too neutral, you should add sage green to bring the palette to life.
Fall Colors
Sugar, Lime, and Tan
If you want a modern spin on rustic colors, you should consider adding sky blue and lime green to this palette. If you want a dreamy ambiance, you should include two soft tan hues. No matter where your wedding is held, this color palette is perfect.
Blue, Green, Eggplant, and White
If you want a sophisticated wedding that is not too stuffy, this is the perfect color palette for you. icy blue tones and eggplant are unexpected but look stunning. When you pair cool tones in this manner, they look smart and create a glamorous feel.
Winter Colors
Strawberry, Coral, Peach, and Silver
Peach is a sophisticated color on its own, but when you pair it with other vibrant hues, it looks playful. When you accent peach with silver and coral, the pink hues in it get punchier. If you want to create a Valentine's Day vibe, you should consider including bold red in this palette.
Blue, Brown, Tan, and Shale
Dusty and state blue are perfect and subtle for a winter wedding. On the other hand, brown hues add warmth to the palette. You should deliver this striking color combination with natural décor accents and formal invitations to wow your guests.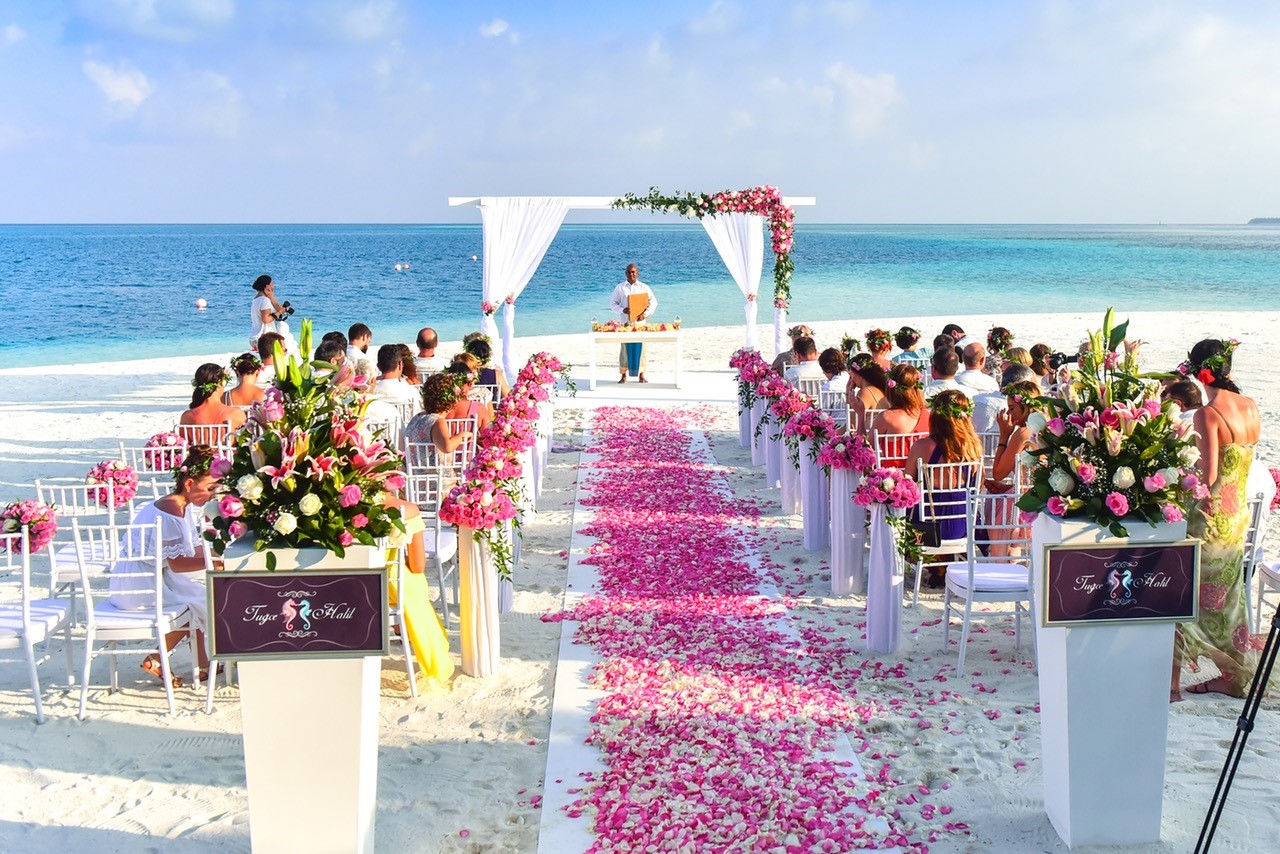 Planning a wedding is no easy feat but when you have somewhere to start, it is easier.