Even the worst of artists like me would impulsively sketch out the quintessential 'scenery' drawing, when asked to draw something.
I think that visual of a clear blue sea, with magnanimous mountains towering above it and that little quaint church making its way to the corner of the drawing along with the happy sun spreading its rays in long and short alternating strokes spreading sunlight all over, are like the basic elements etched in the memory we have of our favorite childhood 'scenery' drawing. Now fast-forward a bit and picture 'living' that childhood 'scenery' drawing of yours.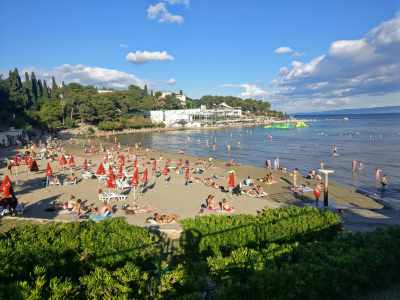 One flight to Croatia and here you are amidst the crystal clear blue seas, blue enough to titillate a non-swimmer like me to plunge into it and clear enough to make even an average swimmer look for the closest cliff and jump from there as he/she ticks that off his/her bucket list and then basking in summer paradise as you sip on to the easy Croatian Karlovacko.
Located in the southern region of Europe and in the heart of Dalmatia, Croatia is definitely the quick go-to place for the Europeans as well people across the world who are looking for pristine beaches, some great party scenes, excellent sea-food (as I've heard) and dollops of nature.
While there are several islands and other cities one can explore in Croatia like Split, Hvar, Brac, Vis, Korcula, Mljet, Dubrovnik, Zagreb etc, I decided to just visit Split and Dubrovnik and found myself wanting to come back here and give this country its own needed time, instead of it squeezing it all in my big fat cheap-ass euro trip.
If you're a beach-bum, come here for at least two weeks to chill. One week you could spend doing the "7-day party cruise" which makes you do some great island hopping, as you get to meet a bunch of party-animals and legit explorers on the handsome yacht and the other 7 days would definitely be required to take some holiday within your holiday and just relax by the beaches or maybe discovering an island, as more than 80% of the Croatian islands are uninhabited.
I felt some major FOMO when the guys from Australia in my Split dorm burnt me up by sharing those crazy experiences they had at their 7 day party cruise. But then I tried to take it in my stride and realized that traveling makes you travel more and I was convinced that now I have a very good reason to visit Croatia again, since giving 3 to Croatia was nothing less than a tease.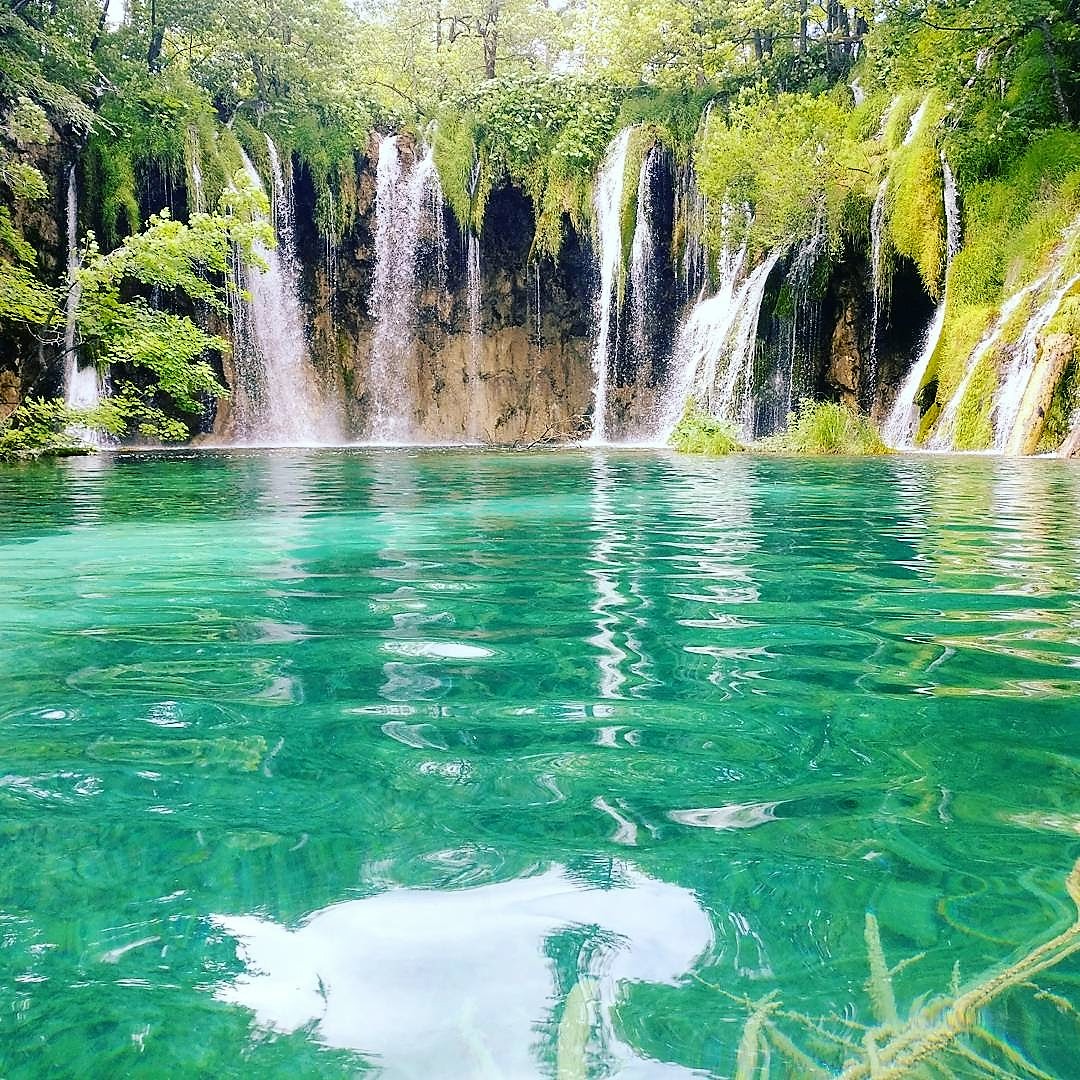 Over and above Split and Dubrovnik, I did a day trip to the Instagram-celeb "Plitvices Lakes National Park", and I'll say the day-trip is a must do while in Croatia. Not because it's touristy and not just because it has been a part of UNESCO Heritage site for a while but also for the fact that it is genuinely a marvel of nature, which definitely deserves some admiration than just the likes it gets on Instagram.
Find the best deal in Croatia and read what other travelers have to say at TripAdvisor
The national park is huge and spreads in several hundred kilometers, but don't get intimidated by that as one can easily explore the park on foot within 6-7 hours. It may sound a bit cliche, but you will thank me later for it, go as early as you can in the morning and carry that hoodie with you and lots of packed food.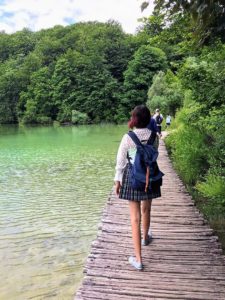 Unfortunately, we went with a tour guide who arranged the travel from Split to Plitvice (3 hours) and back to Split alongwith internal guiding for 300 Kuna i.e. Rs. 3000/- (approx.) but I suggest you just hop on a bus as early as you get one online and come back by bus. Tour Guides just keep walking and only stop for photos but this is the kind of place where you would want to just sit, stare and repeat. So, learn from my mistakes maybe and give that tour guide a miss as you really don't need one.
The authorities don't let you take a dip in the clear blue/green and clean water and are protective about the surroundings there so that's a little depressing, but hey no wonder it's retained its beauty inspite of so many tourists coming there every day.
There are buses and boats inside the national park to glide you around easily across the 22 lakes and innumerable waterfalls, and these services are inclusive of the entry cost you pay to enter Plitvice National Park which was 110 Kuna for the adults and 80 Kuna if you have got your student id on you. Below 26-year olds jaa jee le apni zindagi, this is your time when Europe can be its cheapest for you, the one's who have crossed 26, go now you totally deserve that trip.
Also Read: What to Do When In Shanghai- The Black Sheep of China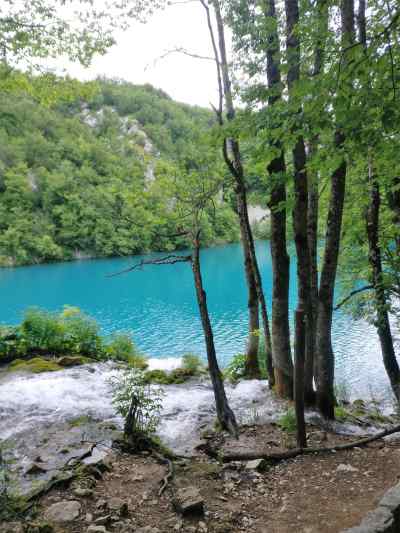 There are two day passes as well and there are hotels nearby the Plitvices for the nature freaks, however for me 5-6 hours were enough to admire this marvel of nature, which comprise of crystal blue/green waters and the gushing waterfalls overpowering the thoughts running in your mind, capable enough to switch you off for a while.
The national park is accessible from Zagreb and Split as it is right in its centre, we opted for Split as we did not want to visit Zagreb this time around.
SPLIT
Imagine a city with tiled flooring and walls of a castle. Now add lots of off-whites and beige with big huge yachts floating on clear blue sea. Well that's what Split is for you. The vibe is all posh and pleasant yet so casual and beachy. Like right out of a fancy movie scene.
You can put on those jump-suits, shades and a hat and park yourself at one of those sea-side restaurants at Riva, which is the main seaside promenade in Split, where you'll be walking time and again. The seaside restaurants are pretty and pretty expensive, but have a great vibe which you yourself would notice as you walk by Riva. Olive Tree restaurant is likely to catch your attention while you walk down the Riva and you will not regret stopping by there for a fancy meal.
Further up, it would be hard to miss the largest chunk of Split which comprises of Diocletian's Palace, which basically are the impressive ruins of Roman Architecture built way back in the 4th century. It's like the city is wrapped by these palace walls and is divided by criss-cross lanes within it which are full of fancy shops, fun bars, enticing bakeries and cute gelato places. You can easily spend time here walking around, finding yourself switching back and forth between the different time zones infused in one place, due to its vintage architecture and the urban brands squeezed in it.
For the evenings, you can check the timings and visit up at the highest point in cathedral of saint dominus and enjoy the breath-taking view or head on to Riva where some street-show or concert is likely to await you.
Next day was dedicated to the tiny beaches that Split had. They are attractive access to jump in and swim around and for the adrenaline lovers there were some adventure rides too.
Lots of beautiful shacks on the Bacvice beach instantly caught my attention and the one next to the place called 'Chang' turned out to be my favorite place to enjoy Bacvice for the next two days.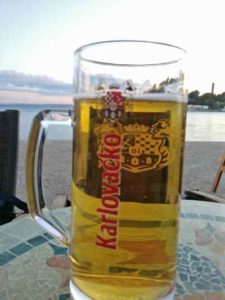 There are more beaches ahead as you cross the Bacvice, but it's very likely you'll find your comfort spot right on this one, due to its animated mood.
If you're done exploring the heart and soul of Split i.e. the Diocletian's and the beaches, you could walk in the other direction and get to the eye of Split which is the Marjan Hill. A perfect hiking spot to get to the top and succumb to the sight it offers.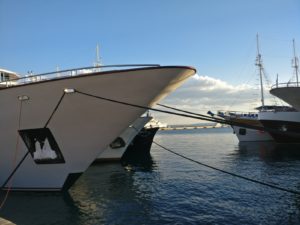 There are also several day trips happening from Split to several islands around, but some of these islands like Hvar and Vis need more time than just a day, as the carpe diem club in Hvar and the tranquility of Vis can't be all devoured in a day. So instead hit for a one-way ticket and plan your one-night trips to islands around as per your taste. There's a famous blue cave attraction which my hostel receptionist told me about for 8000 kuna, where you get to kayak through these caves which are lit with an electric blue light due to natural spectacle.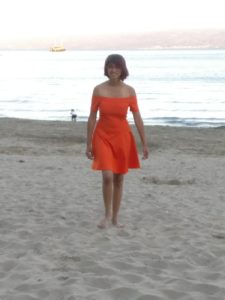 The bus station is conveniently located near the harbor and the Diocletian's Palace so you won't have to really cab it up anywhere as most hostels are located within 10-15 minutes' walk from the bus station. However, if your hostel is too far from everything, then Uber is the way for you.
For our abode, Hotel Split Garden was the option available as we were doing our bookings too last minute and we were glad to have been able to book a bed in a 6 bed dorm for Rs. 900/- for a night. They have a usable kitchen, fridge, free Wi-Fi and a super sweet lady at the desk who helped us around with what all we could do in Split. However, the dorms were tiny and stuffy just like its common area, but the bathroom was clean. Another good part was that it was beautifully located and was close to the main bus station and had many restaurants and bars around. There are several hostels you may get in that range easily, just make sure you're close to the main bus station as that's where the heart is.
Also Read: A Checklist While Travelling To North East India
As far as food is concerned you will be spoilt for choices as they have a lot variety especially in sea food and there are cafes, restaurants and bars in abundance and for everyone. There's BBQ at Fabrique and a good view at Libar, look out for their menus. Gelato and bakery food lovers rejoice, as this will be nothing less than nirvana for you as you would be spoilt for some exotic choices. Don't forget the apple pie/strudel which is easily available as it's pretty famous there. As far as Beers are concerned the options are many and all very cheap, but Karlovacko was easy with its 5.4% alcohol content infused in the local waters of the beer town Karlovack.
There's another instagram-celeb and a magical cave called the blue-cave i.e. Modra Spilja, which could be a good day trip for you from Split if you are ready to shell out 800 Kuna (Rs. 8000/-) to witness this play of lights creating a wonder of nature on the Bisevo island. From what I heard the sunlight sneaks into this cave and makes water appear as if reflecting blue light. This is probably another thing I could come back to Croatia for amongst other things.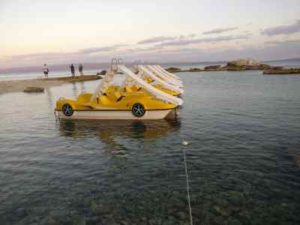 Of course it's slightly touristy with too many souvenir shops for tourists thronged up, but it's ridiculous I felt to be a tourist and complain about the number of tourists around.
Also to get a better understanding of the Diocletian's Palace which has a lot of history to offer other than the touristy souvenir shops, go for a free walking tour or ask for a guide. It may sound boring but to make sense out of things around and get to its root, guides are the saving grace most often.
Split is cute over all i'd say. Very cute.
My next destination was the GoT-spot/celeb-spot fancy city of Dubrovnik. Most unfortunately, I just gave it a day there and fortunately I made the most of it.
DUBORVNIK
I just felt a little upgraded when I reached Dubrovnik from Split. Otherwise the elements were pretty similar. Dubrovnik is the more fashion conscious and expensive sibling of Split but at no given they will make you feel they are brothers from the same mothers, they are more like cousins weaved by a common thread.

Orange inclined roofs covering the white tiny chalets in the milieu of a clear blue sea gives Dubrovnik a very postcard like image when viewed form the hill.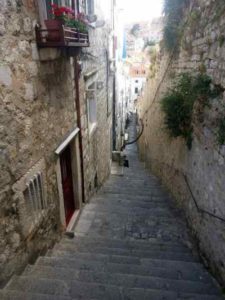 Split had its slopes but Dubrovnik is definitely hillier and inclined in its legit sense. The roads are too steep to climb on foot (where some hostels are located) and the hill is cut down to create stair ways to get to the old town opposite the sea where the core of Dubrovnik lies. So, while you book your hostel in Split, please watch out for its location as the taxis can get expensive unless you'll are four people splitting the bill and climbing with that luggage ain't no easy absolutely.
Luckily our hostel Villa Banana which offered a great view of Dubrovnik as it was perched high up on the hill, also offered us a free pick-up from the bus station, which made our lives easier and less expensive.
There are hostels in old town as well which forms the heart of the city guarded by the walls around this heart, but it's likely that the hostels in the area within the palace walls would be too expensive, if this is what your budget euro trip is.
Our hostel guys welcomed us with complimentary welcome drinks and cookies and warmly look us through some must-dos as we told them we do not have too much time in Dubrovnik.
The view from our miniature dorm was splendid, with a balcony overlooking the picturesque palette of colors conjuring an image which will truly make you believe that you living 'the good life' even though the dorm was as cheap as Rs. 1200/- a night.
As far as public transport is concerned, we were told the buses are very convenient and have a good frequency, but we gave that a miss, because moving around last day in Europe in buses would be a little bit of unfairness to the checklist of Europe.
One can see the famous city walls of Dubrovnik from pretty much any part of the city and is definitely the main place to be. These city walls were constructed to protect the city and today they form the most dominant element of Dubrovnik's imagery.
You can pay 20 Euros to climb up these walls and walk around them as each corner makes the perfect spot for some selfie clicking or even self-introspecting.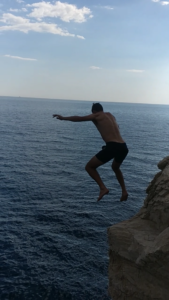 But before its sunset and the lights are out, head to Buza, it's a touristy bar, but let me tell you touristy is not always bad, and this one is not bad at all for the perfect view it offers. It's a steep bar hiding behind the walls facing the clear blue waters of the Adriatic Sea, hanging on the cliff, making it a perfect spot for that date with yourself you were always fancying.
And let me make this beautiful affair of sitting by the rocks opposite the cool blue sea and sipping your spirit a little inexpensive, by telling you this important yet obvious secret that you can always pick your beer from the local departmental store and go across Buza and step down on the rocks and have it for free out there. You can thank me later.
Attention you swimmers, my friends got adventurous right outside Buza as they dropped those T-shirts off to dive into the inviting blue waters of the sea rather spontaneously. There are several spots from where you can choose your easy, medium, difficult level of cliff dive, and here you are ticking one more thing from that bucket list of yours.
The vibe, the view the mood, everything is perfect as you watch the sun getting gentler over those bright and colorful Kayaks that pass by intermittently as you sip on to your spirit 'on the rocks'.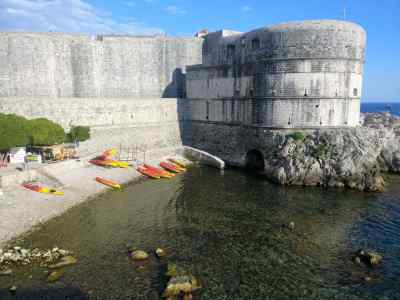 Fans of GoT, you will be more than happy to know that there are day tours that take you to all the spots where GoT was shot and guess they don't just show you the places and tell you what scene was shot there, but they will also share with you a lot of interesting trivia on GoT and this behind the scenes tour of GoT is definitely worth that extra euros. There's an infamous GoT merchandise store as well where you get to sit on that famous throne and up your Instagram game, however the precondition is that you need to buy one super expensive merchandise from that store in exchange for that picture. It's an expensive barter.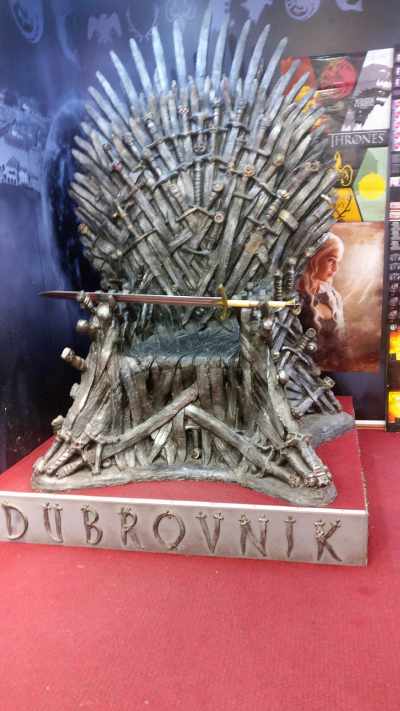 Further up for the fans of aerial views, there's a cable car that takes you super high in a jiffy and exposes you to that perfect Dubrovnik view which will be etched in your head as your Dubrovnik memory, of course there's a moolah for this that you will have to incur, but then if view gets you high, then this is high enough to give you that high.
Also Read: 10 Myths About Solo Travelling
For your meals, there are several open-air restaurants enclosed within the city walls, which offer live acts and some good music in the evening, adding to the feisty air of the city. You will be spoilt for choices if you're going a little easy on your pockets as Croatian food offers some experimental dishes like the black risotto and the pork smoked in their traditional vessel, over and above the regular pizzas and pastas that you swear by.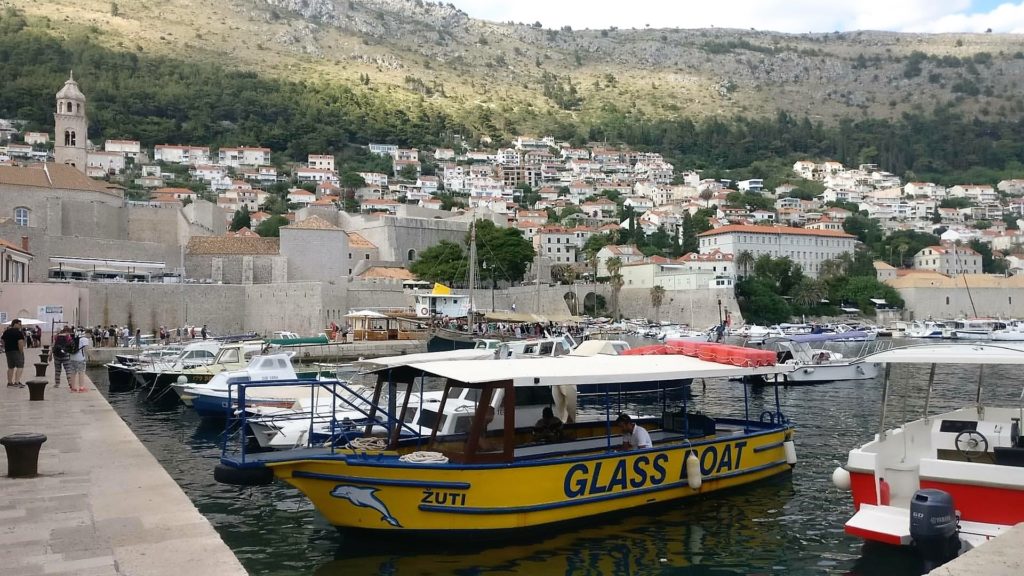 Two full days are perfect to sufficiently explore Dubrovnik; however, you can push it to three if you want to get the feel of the place a little better.
The people are lively, friendly and extremely chilled out there and may be the relaxing seaside atmosphere just adds to their fun personalities.
Dubrovnik has some pebble beaches as well where you can lay down for some tan, however don't forget to carry a thick towel to comfort you from those pebbles all over the beach. Banje is your closest beach to the city walls, and has a shower area as well and some water activities lined for you, however it's a tiny one and super touristy. You could prefer the Lapad beach if you're not in for the tourists hovering around all the time and are up for some travel.
Overall the fact that Dubrovnik and other parts of Croatia have been war-torn for a really long time until some years back will not be evident to you unless you speak to the people about it, and that is not even visible on a casual look of the cities of Croatia. They have resurrected themselves very well and very soon indeed and maybe the contagious blue of the sea has always kept them so cool and happy.
So as I read recently, the people back in Croatia are not liking the fact that their ports are thronged with multiple boats all day long and there are so many tourists walking in and out of Dubrovnik, and so to retain its natural beauty, upkeep the standards of tourism and prevent it from losing its class, they will restrict the number of tourists who can enter Dubrovnik in a day. I feel its difficult, but a great move in ensuring the betterment of tourism in Dubrovnik decades from now. So isn't this also a good enough reason to go there if you're not convinced by any of the above?
Overall Croatia may have not been the much spoken about destination as your go-to place in Europe, but it will surely make you want to come back as it's here maybe you will discover what 'the good life' actually looks like.
It's Dovidenja for now!
Also Read: 13 Unusual Beaches Around The World