In a country that eats, breathes and lives trade and a country that boasts a separate city for manufacturing pretty much everything, Shanghai cuts the clutter and shows you a side of China, which is completed isolated from the real essence of it.
Not because it isn't that good or anything, but simply because, if you're here to see China and its culture, you're likely to be demotivated at the start itself, because Shanghai is so much about big-ass fancy malls with international brands alluring you to pour our all those yuans (RMBs), and the up market buildings enveloped by spiral wide flyovers twirling around Shanghai's high-rises. The culture will be found in certain nuances, like finding a metaphor in an independent film.
Shanghai is the perfect example of identity crises, where you have the soul of communism, waging a war and trying to push off the glittered cloak of realism.
What they say about China is actually true, that with every 100 kms, the architecture always changes, so do the people's eating, drinking and living habits. Thus, you go a few kilometers away from Shanghai and you are likely to find an entire city manufacturing only socks, the city is called Datang in Zhuji, where about 8 billion pairs of socks are manufactured everywhere. The list doesn't end here, we have a tiny hamlet namely Gurao, which is called the undergarments capital of China, and you will find the latest of everything as far as 'inner beauty' is concerned.
Thus in a china which is divided into a plethora of such cities, Shanghai seems to be comfortably placed between its DNA and its aspirations.
Shanghai is the quintessential black-sheep, in a herd of colorful stock. Unfortunately and due to logistical convenience, I commenced my China sojourn from Shanghai and spent about 5 days in the midst of skyscrapers and the dynamism of city-life. For someone who was born and grown up in Bombay, city-life can never be exciting or novel. For us, fast life is normal and there are enticing options to party after every few stations. Thus cities are not the go-to options for a vacation for a lot of city-dwellers.
Also Read: 10 Myths About Solo Travelling
TRAVELLING TO THE INTERIORS
Shanghai to me in one word was VAST. It's humongous and everything is spruced up in a fashion that one has to travel several kilometers in order to get to the next cluster of fun and entertainment, and between that, is just elevated concrete and more of that.
As far as connectivity is concerned, since my folks live in China, it was easy to move around as we had a car at most times, and when we did not have a car, the metro transport always saved the day. Let me tell you their metro deserved a total 5 on 5, with the amount of lines they have and the fact that the metro stations are so beautifully placed outside every relevant place one would want to visit.
Download the application called Metro Man right away and you can thank me later. In a city where there was a major language barrier, this app helped me sail through my solo travels to the interior parts several times. Just tell the app, the closest station which is in your area and the name of the station where you want to head and after that let the app work its wonders.
The metro is conveniently placed, swift and inexpensive in a rather pricey Shanghai. You can cover a good amount of distance between multiple lines (say about 10 stations – 30 kms) in about 4 Yuan i.e. Rs. 40/-. Now you can thank me!
Find the best Hotel Deals in Shanghai, China. Compare prices , and read what other travelers have to say at TripAdvisor
Also, if you have arranged a car from outside Shanghai, you won't be allowed to travel on their highways (which is pretty much the entire city) from 4pm to 8pm, because they give preference to their local vehicles that time and they don't want the cars of the outsiders to jam up the expressways. That is a thoughtful move for the locals, isn't it?
They have cabs as well, which start at a basic fare of 8 Yuan (Rs. 80/-), but please avoid taking the red color cabs as from what I heard, they have records of being unnecessarily pricey.
Most places have a Metro station but the only issue can be, that the Metros stop working around 10:30pm onward (there's different time for every line of metro), so watch out before you make those late night plans.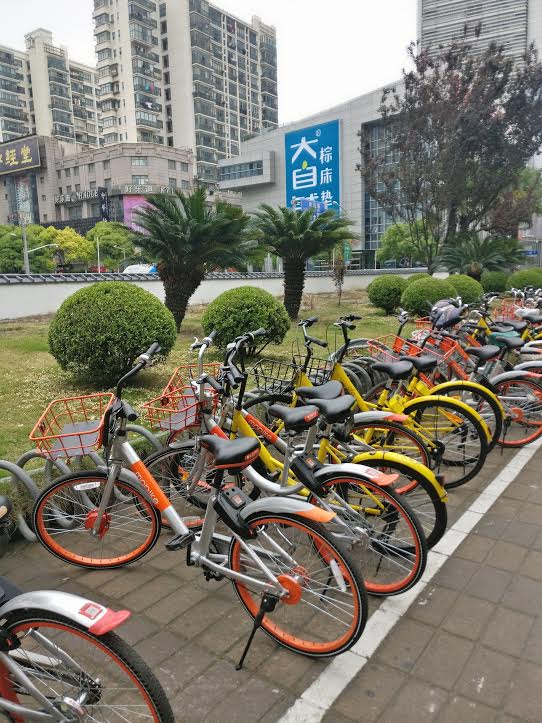 Another mode frequently used by the tourists to travel internally are the cycles. There are several companies like ofo and mobike offering cycle on rent for 1 Yuan an hour after a deposit of 300 Yuans. There are special lanes for cycles throughout the city and the stands to pick and drop cycles are easily located.
STRUCTURE OF SHANGHAI
So you know how we have it in Mumbai, there is a cool SoBO (Town) and then there are the burbs (everything beyond dadar). Similarly, Shanghai has its town, which is called the 'Puxi' region, Pu being the river and Xi being west. Thus Puxi falling on the west side of the river Huangpu is separated from Pudong by the river Huangpu. Pudong being the newer and the more recent construction of Shanghai, falls on the East (dong) of river Huangpu.
You will find most of your attractions and beautiful places on the Puxi side, while the Pudong side is a relatively cheaper area to reside in, only with the backdrop of having to travel each time to visit Puxi.
Also Read: Places You Must Definitely Not Miss When In Rajasthan
WHERE, WHAT, HOW?
What stands out and comes first on your list, while you're reading up on places to visit is The Bund. Bund arising from our very own Indian dialect, meaning embankment. It is where the ships would come in and was once a bustling area with the most important buildings, like their original stock exchange, and other vital buildings, placed exactly opposite the bund since time immemorial.
Bund is the perfect example of the two worlds, the two lives and the two identities of China, standing diametrically opposite each other, both giving pretty views from either sides, with their reflections merging into each other and the gentle waters flowing between them- just like the Shanghainese residing there.
If you visit this city for the first time and happen to be at Bund during the night, you will find yourself struggling from not being enamored, belittled and awed all at the same time, by glistening buildings on the Pudong side merging into the vastness of the space. You may find this little spark of ambition igniting within you to have your office placed in of those glitzy buildings that promise a good life.
Whereas, if you visit the bund from the Pudong side i.e. the East side and witness the view of the city from the plethora of high-rises stuffed next to each other, you will be enthralled for a while by the vigor of the city contouring from one street to another.
With the Pearl Tower being one of the earlier high-rises of this vicinity and having a distinct shape, the building saw a lot of attraction, with tourists as well as the locals wanting to view the city from their viewing deck, perched high-up in the clouds. The price for this experience is about 120 Yuan (Rs. 1200/-) and if you have not done your Burjs, Petronas and the Eiffels, this will be a new good/rich experience for you.
But since competition is another thing that forms the Chinese DNA apart from buying-selling, several other viewing decks have popped up around the Pearl Tower within no time. Now the Shanghai Tower promises a view from a height of 587.4, being the highest and tallest around, taking the image of Shanghai high-up in notches. The Shanghai Tower is slightly more priced than your Pearl Tower and there are other competitors around namely Shanghai World Financial Centre and Jin Mao Tower– all of them being located in the area called Lujiazui.
Also Read: 13 Unusual Beaches Around The World
If you choose to view the city from the Puxi side of the Bund, you will come back with a bunch of postcards in your head as the view from the Puxi side is absolutely out of the world and you will find yourself torn between experiencing the sight and capturing it for another nostalgic night. This is one place where you really can't say the grass is always greener on the other side. As on both the sides the grass is extremely beautiful and distinct.
However, Bund can be an extremely crowded area if you go on a holiday as the Chinese work all days (even Sundays) and they come out in large numbers on their holidays. So avoid, avoid, avoid stepping our on their holidays, unless getting down at Dadar station at 7pm gives you an adrenaline rush.
After you enjoy the view up and close from the either side of Bund, I suggest you ascend on one of those rooftop restaurants like Shook or M on the Bund on the Zhonghshan Street, for one of the most romantic drinks overlooking the colorful view of Pudong. Have the wind playing in your air as you feel all 'fancy vibes' and sit back after clicking the mandatory pictures to soak into the moment that makes you feel you're in Shanghai. Then of course, you can follow the music and show up at a club opposite the Bund and have the upmarket crowd groove you through the party scenes of Shanghai.
Party Tip – visit small pubs/bars etc like Perry's where there are promoters who are always looking for foreigners to visit the clubs and since you're an exotic species there, follow the promoter who will take you to one of the coolest clubs and offer you free drinks. Do this freebie shit in groups for safer side.
To unwind further in the night, visit the Xintiandi Street, which a small and scrawny looking lane, filled with a lot of beerholes and bars, for as far as your eyes can reach. My bet is the Pauliner, as they had some great beer, live music and dancing happening there. There are many more bets and all your bar-hopping dreams can come true from one end of the lane to the other. Also the staff at this place called as Refinery was absolutely sweet, cute and courteous and that place is perfect if you are looking for a well lit place.
The Huaihai Street also has some place to play beer-games and tap your feet and the pub-crawl which usually happens on Saturday nights (please book in advance) and can be a fun way to meet new people and down that alcohol at a good rate.
Also Read: 8 Places You Must Visit In North East
There is also the Nanjing Street, which finds its way right on top of the list of must-dos in Shanghai. The street is divided in two parts the East Nanjing and the West Nanjing Street. East Nanjing is like your walking street in pattaya, minus the fact that instead of gogo-bars there are branded shops on both the sides of this extremely lit up street. The street does not allow vehicles, so the best deal here is to take that metro, get off at People's Square station and follow the herd (for once) to get to the East Nanjing Street. This one is an only pedestrian street, where vehicles aren't allowed and it's a long long walk. So put on those comfy shoes and get into the bustling, multi hued and pulsating East Nanjing Street. There is this particular mango drink which everyone buys when they enter the street, because it looks so enticing and promising, but you can totally skip that one. The walk can be extremely hectic on a Chinese Holiday, so do your research well before you go. It requires several fleets of cops to manage the crowd and act as a signal while walking in that street to prevent a stampede.
There isn't much to do except click pictures and soak in the lights of the street, unless you're looking for some brand-buying. The street ends at the Bund, where you will find fancy hotels with amazing rooftops, where you could perch yourself to unwind after the excessive walking.
The West Nanjing Street is the quieter one and has some branded stores and restaurants scattered, unlike the chock-a-block East Nanjing Street. For more shopping at the big huge malls with chic brands, get off at the Xuijahui metro station, and right outside there are 3-4 huge malls, all posing diagonally opposite each other, whereas your street shopping can happen at the Science Exhibition Center metro station.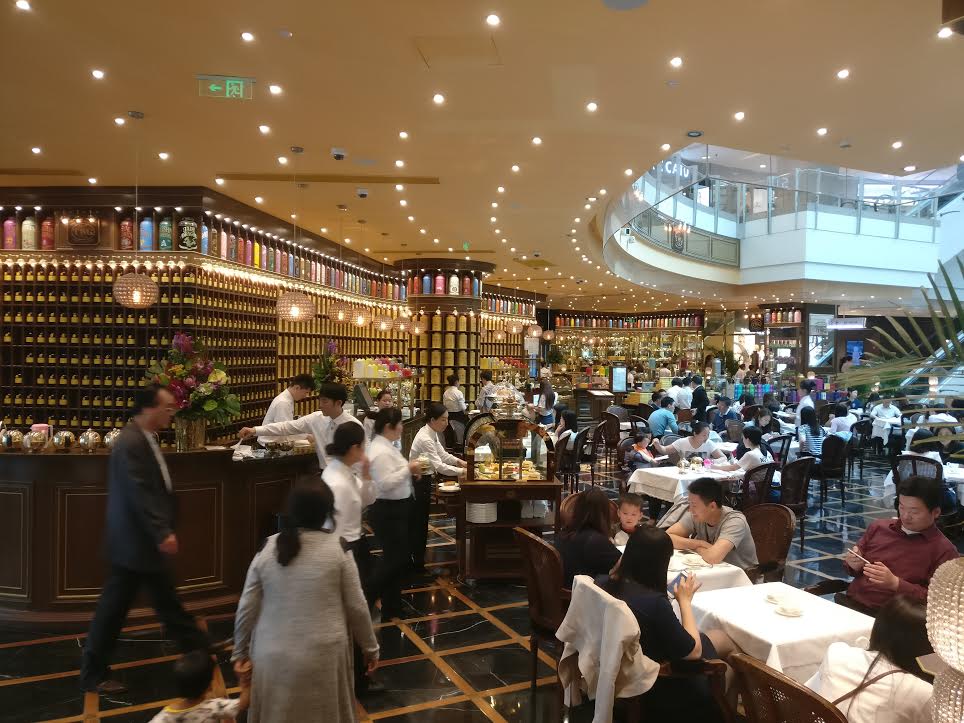 There are many temples which the must-do list of Shanghai offers, with the top one being the Jade Buddha Temple. However, we decided to skip that one and went ahead with the Jing'an Temple. It is relatively old and has a history of about 500 plus years. It was rebuilt again and again, which clearly shows its significance to the people of China. It has a large statue of Buddha in the Mahaveera Hall, showing the significance of both the Buddhism. It has another huge statute of Buddha in a smiling position and is an extremely huge temple where you can find peace and solace despite the concrete buildings being towered on either sides of the temple. The entry is INR. Rs. 500/- however, it varies as per the lunar calendar, so it is better to check up on that and visit.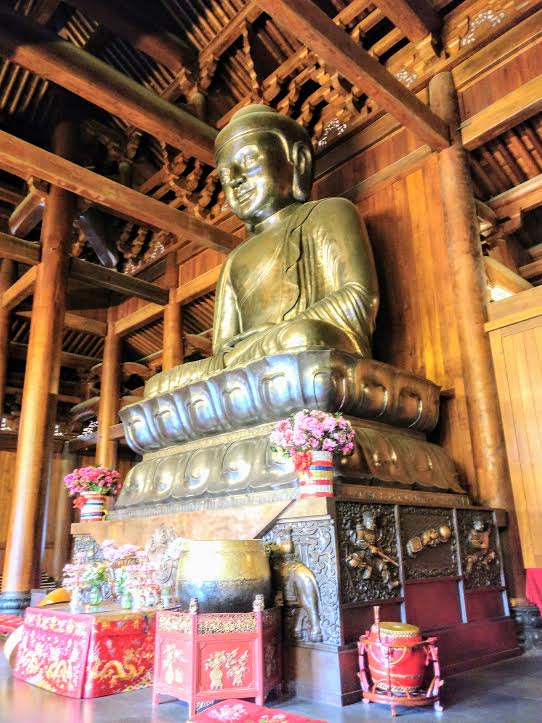 It is beautiful and vast, but if one isn't too big on temples and culture, then this is effortlessly skippable.
My quest for culture took me to the Yuyuan Street, which lived up to its promise and showed me a slightly more local and indie street, full of shops (selling Chinese tea and Chinese garments) dotted with arched roof small mansions. The street looked vibrant and beautiful but in a far better way than it did at the East Nanjing Street. This one finally made me feel like I am in china, with all the local food stalls swarming around me as I took a step further into the street.
I ended my cultural walk through the streets of Yuyuan by settling at a Tea House, which had a great view of the energy of the streets and the life thriving in it. At your tea tastings sessions; ask them for the samples, before you settle for your favourite Chinese Tea, which will last enough for plenty of conversations. Preferably look for a tea house on the first or second floor of the arched mansions in order to sit back and absorb the feel of being in 'china'. Do not forget to ask them about the benefit of each kind of tea that they are selling.
There is a temple at the end of Yuyuaan Street as well and for a dope of more culture post your green tea sessions, you can definitely peak in there.
My love for finding remote by-lanes full of life and color landed me at Tianzifang Street. What looked like a simple street full of start-up boutiques left us puffed and excited as we discovered that the entire street had tiny by-lanes which were lined up with interesting stores/bars/restaurants on either side, with variety of things to offer.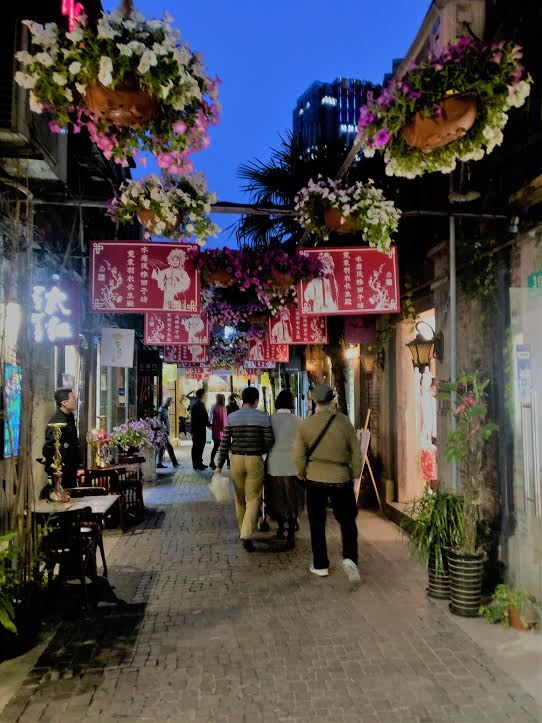 You can do one of your evenings in this locality called the French Concession. It's the older constructions of Shanghai and a little scouting can help you discover some eclectic places. As far as food is concerned, the vegetarians (not the kuttar vegetarians) can find some spice on the streetside BBQ stalls, which offer Potato (toudu – for pronunciation), tofu, and some more veggies as 2-3 RMB at stick. It has a lot of garlic flavor to satiate your urge for chatpata food.
Further up there are street vendors, who prepare noodles, with your choice of toppings, so ask them to go for plain water while boiling your noodles and put that extra serving of spicy red seasoning, which is found at every table of a Chinese restaurant. If nothing Donald bhaiyya's French fries will help you survive!!
However for the non-vegetarians, this is your paradise, your play area and your chance to try everything you haven't even imagined of having. They don't serve water unless asked for it, but green tea is always there to cleanse your palate with.
Also Read: Explore Meghalaya… Unravel the mysteries of the hidden tourist places in the abode of clouds
Other things to look out for 
There is an interesting outdoor marriage bureau happening at the People's Square, go peep in and if you're lucky, you can settle down there. This Japanese chain of store called Miniso is there throughout Shanghai, it can be your savior for buying good quality, small and inexpensive things required for daily needs.
Tsingtao is their local beer and is cheaper than water i.e. Rs. 25/-, are you still looking for a reason to visit China?
I'd say I left with mixed feelings for Shanghai and it can be a good place to stop over while visiting somewhere else though. Further to sum it up only one thing can stop you from experiencing Shanghai (China in fact) better and that is language barrier. I had a fluent Chinese Speaking brother-in-law, who made things relatively easy.
But in general learning the important words, downloading this app called Pleco, having a VPN to use google translator and buying a local sim so that you can access free wifi at all the malls, will make your living in Shanghai super easy.
Its xie-xie for now!