"Every dog must have its day."– Jonathan Swift
This is exactly what the owner of the Crazy Dog Lady Project does. Anushree has a full-time job but also rescues abandoned dogs, making sure that every dog gets to have its day. She also creates matching handmade collars, bandanas, bags, masks, and much more for the dogs and their owners. 
Cruelty against animals is a cognizable offense under Section 428 and Section 429 of the Indian penal code (IPC). A first offender is liable to pay a fine that amounts to a maximum of just Rs 50. In the case of the second offense, the offender shall be required to pay a fine of at least Rs 25, which can be extended to Rs 100. 
With weak animal protection laws and many states in India yet to form the State Animal Welfare Board (SAWB), people like Anushree are taking one step at a time to make the lives of animals better, and in turn, making the world better. 
Team Tickled Pink, got candid with Anushree on the Crazy Dog Lady Project, the products, and how she encourages others to adopt animals rather than buying.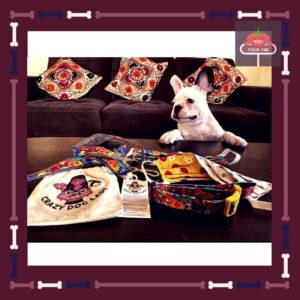 You are a dog mom to 5 paw-dorable dogs. Tell us something about them and yourself.
Haha, it's 7 now. Most of my childhood was spent by looking after street dogs and being surrounded by them. I was 11 when we got our first pet dog, and it was magical. Very early on I began rescuing dogs on my own before working at an animal NGO for 5 years. I continue to volunteer at different places but also work independently. I started specializing in pug breed about seven years ago when I rescued the first abandoned pug. Over the years, we've been successfully able to rescue and rehome many of them. 
What made you start Crazy Dog Lady Projects?
I've always been creatively inclined and loved creating new things, so on a whim I picked up a sewing machine without really knowing how to sew simply because the dogs and we were going on a holiday and I wanted to create a matching bag (for me) and matching collars (for them). People soon started ordering from me, and since I had no intention of making it a business, I used to donate the money to either animal shelters or to individual rescuers and fosters. The brand has evolved and now we directly donate 30% of every order to the same cause.
What items can the hoomans order for their lovely doggos?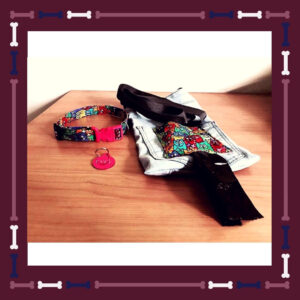 For humans:
Masks 

Sling bags

Totes 

Fabric storage bins/Planters 

Storage caddies 

All kinds of pouches 
For the dogs:
We're going to be expanding very slowly but surely.
What is your personal favorite product from Crazy Dog Lady Projects? Have you made anything unique just for your dogs?
I love the collar and bowtie set for dogs, it's super cute and we've created a unique set of the bowtie where it sits just perfectly on the collar at all times. And you can even get a matching mask (for the human) and collar set (for the dog) to look pretty cool!
You are very vocal about adopting animals, rescuing them, and having a commitment towards those furballs. What drives you to encourage people to do so?
I've never paid money for an animal, never understood the concept. And after working with hundreds and hundreds of abandoned dogs, and seeing truly what the breeding industry is like, it motivated me to advocate against buying any animal. The minute you purchase a life, it becomes a commodity. 
What does an ideal day for Anushree and her dogs look like?
I think people don't know I have an actual full-time job! So its work, a pinch of adoption or rescue efforts plus sewing, and my dogs are always in the equation. We have seven dogs, adopted at different times, from different age brackets and varying backgrounds but who get along as a family so it worked out really well for me I'd say.
What keeps you Tickled Pink?
Seeing a broken dog find his place in the world again. The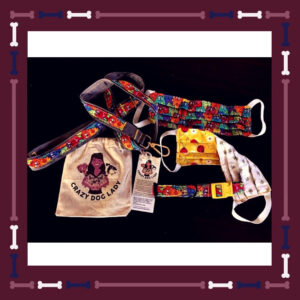 ir ability to move and love again is really remarkable and I feel immense gratitude just to be a part of that process.
What is the process of ordering like and is customization available?
Right now we are only on Instagram and since we make pieces on an order basis, there is the angle of customization which I hope I can retain to some extent when we open the website. 
You mentioned collaborating with independent artists on your social media platform. Are you working on anything currently?
Yup! We're working on expanding the brand to include more creative items (apart from just my sewing pieces) and we are currently working with a fellow animal lover for some terracotta items.