Gummy aka Gautham Muraleedharan is your guy next door who has big curly hair, stoned eyes, and a giggle on his face. Just like any other person, he enjoys photography, watching videos, and is a foodie. But, also just like many other people, he suffers from anxiety.
And when anxiety kicks in, he gets creative. Thus, he created Gomics (a comic strip) to let his emotions out in the best way he knows.
Gomics talks about everything under the sky and also above it. The comic strip is a reflection of many people who think they are alone.
Team Tickled Pink got candid and Gummy who likes to make fun of his anxiety and other taboos cause he hates 'em!
How would you introduce yourself? 
I am Gummy, a passionate illustrator who loves to make content with a visual appeal so that people can enjoy watching it. I am also a designer as well as a social media expert by profession.
How would you introduce Gomics to our readers?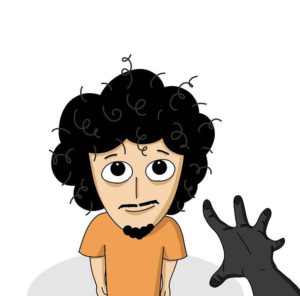 I always wanted to make a cartoon by creating a character of my own. I then came up with the thought of making me as the central character because I look funny anyway (inserts a funny emoji).
Having the main character based on me allows me to express my views and thoughts about various things and also gives me the freedom to create visuals that people can relate to in their day-to-day life.
When did you decide to venture in the unconventional path of making comic strips? What are your influences?
As an artist, I wanted to be an all-rounder, and I guess it was last year when I got my digital drawing pad which encouraged me to do cartoons. 
I am heavily influenced by my grandfather and father who are cartoonists. Apart from them, reading loads of comics and watching anime have also influenced me.
The main character of Gomics is you. Do you have a name for it?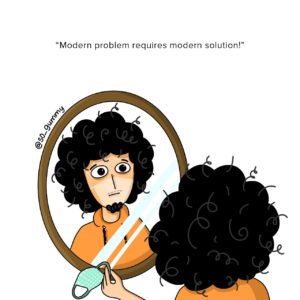 I haven't thought of it yet. The name Gomics came to my mind when I was toying around with the idea of Gummy + Comics. 
I think the other reason for not having a name for the character is because I want my audience to take part in it. In Gomics, anyone can be the main character. They get to voice their thoughts and feelings and I get to portray them.
Your comics revolve around anxiety, social stigmas, humor, and much more. What drives you to make an art out of it?
I get creative when I'm sad. Sounds funny, but that's the truth. 
Most people don't express the way they feel which I think is dangerous and eventually leads to suicidal tendencies. I know for a fact that it's another level of struggle to work your way out of depression and anxiety. 
In another scenario, people suffering from mental health issues want to talk out but are not taken seriously most of the time. I hope that the content on Gomics will help such people to know that there are more like them and that they are not alone.
Also Read These dreamcatchers are what dreams are made of!
A lot of people today are opening up and talking about their anxiety issues and depression. Is Gomics your way of expressing the chaos in your mind or of letting it go? 
Hmmm…not really. I make fun of my anxiety because I hate it. 
What does art mean to you?
Nice question! (inserts funny emoji again) 
Art for me, is not only painting, sketches, or something visually pleasing. Art can be a person as well. Anyone who entertains people is an artist. Art can also be a poem, a novel (though I'm not an avid reader myself), or a dance form. It is a very special skill and I'm grateful to my parents and friends who admire and support my work, no hate.
What advice would you give to people suffering from mental health issues? 
It's not advice but I guess talking to people who you like, having good friends, and being passionate about whatever you do helps. But first, let me get out of 'these issues'.LOL.
Are you currently working on something? 
I'm currently working on a pseudo-feminists theme.
Can you walk us through the process of making a comic strip? Right from when you get an idea and how you decide to pen it down until it makes it to your Instagram page?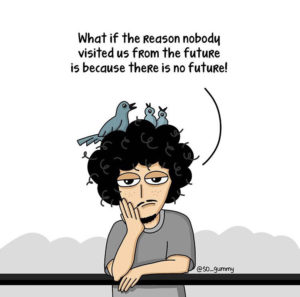 Oh well, I never plan anything before making a comic. It's just me when I'm in my mood. I type out the content on my phone whenever I come across any topic which affects me personally or anyone in general. Next, I sketch it out, take a picture, import it on Photoshop, and use the technology of digital coloring at its best. TADA!  
What keeps you tickled pink?
Doing research and learning new stuff keeps me Tickled Pink. 
What other things do you do apart from Gomics?
RESEARCH. I like to put my hands on everything. I like photography, video direction, and eating.
Your comics are relatable to many. Have you considered marketing your brand Gomics?
I am inspired by Chumbak so I am looking to give my brand the same vibe. I've also met a few artists on Instagram and I'm working towards levelling up Gomics. 
Do you want Gomics to mean something to your audience or is it just for fun? 
It's just for fun, but I would love it if people can take it to the next level by supporting my content.