Right from Traveller's Diary
For every travel freak, Leh, the capital of the Himalayan kingdom Ladakh is a much sought after place and driving to Leh through Srinagar via the Leh highway, is a much cherished dream.
We were no less. As freak travellers, all we wanted was to live this dream.
Having dreamed every ounce of this adventurous road trip, we set on our journey on 13th September 2016 to make our dreams come true. We were a group of five travellers – four men and Me, a solo woman. We booked a self-driven Terrano for the entire eight days trip from Delhi to Leh and back to Delhi via Manali.
With a total budget of 50,000 INR/head (inclusive of fooding and lodging) this trip was an experience in itself with all sorts of adventures and thrills.
SCANDAL @ TITANIC VIEWPOINT
Day 1: 13th September
Delhi – Anantnag, 787Km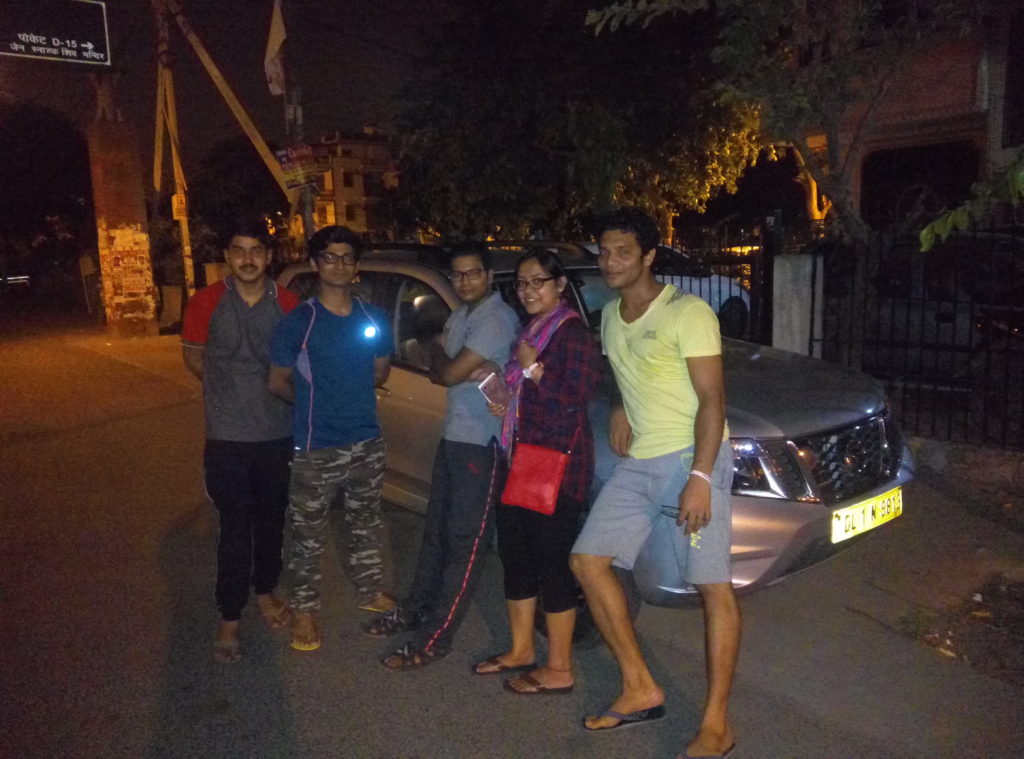 Setting out on the trip of a lifetime, we had hit the national highway at 12AM on 13th September (luckily 13th was not unlucky for us), which took us from Delhi to Ambala. Being the only woman traveller in the trip I had the privilege to sit in the front seat along with my friend Apratim, a person with amazing driving skills who drove in the steep mountains with a very swift presence of mind.
Also Read: Places You Must Definitely Not Miss When In Rajasthan
With Diljit Dosanjh singing out loud "Patiala Peg" from the sound system of the car, we made our way towards Ambala. Cruising through the road at 90km/hr (speed limit 110Km/hr) we reached Ambala at around 3:30 AM in the morning. With 3.5 hours of non-stop drive it was time for a much needed tea break.
Enjoying the cold breeze at the wee hours in the morning and sipping hot tea by holding the glass with both the hands, it was a moment of satisfaction and happiness where simple things of life looked more meaningful than any weekly calls or data sheets.
After a short break of 20 mins we started from Ambala, this time turning up the volume at the recent chart buster "Kala Chasma." Our next halt was intended at Pathankot which was almost 280kms from Ambala.
Our fellow travellers – Saurabh, Ankur and Gyanendra decided to doze as we sped across the highway towards Pathankot. As we drove through the splendid NH44, we witnessed the break of the dawn after a long time. It was a beautiful sight which we often miss out in the hectic city life.
After about 4.5 hours, we reached Pathankot at around 8:30am. We got ourselves freshened up and ordered the famous aloo ka paratha and some hot tea from a road side dhaba. Smeared with home-made butter, the parathas were very yummy till the last bite and the big mug of tea had made the breakfast all the more yummilicious.
After a refreshing 1 hour break we resumed our journey from Pathankot towards Jammu. This time the track "Hairat" sung by Lucky Ali had made its way on our play list and all five of us were wide awake as the song had pumped up more excitement to the journey. The drive was wonderful with lush green farm lands on both sides of the national highway.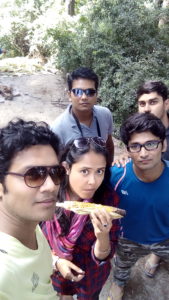 Driving for almost 4 hours we reached Jammu at around 2:30 PM and after a short 15mins break at a petrol pump for refilling the tank, we had resumed our journey. On the way from Jammu to Kashmir we crossed around five to six tunnels. As we climbed up towards Kashmir, the roads became more serpentine in nature with sharp hair pin bends. After a drive of around 2.5 hours we reached Patnitop, the Gateway to Kashmir at around 4:30pm. There we had a stop-over for about 30mins to enjoy the greenery along with the cool breeze while munching on some baby corn and capturing it through our lenses.
Finally, we started from Patnitop around 5pm towards Srinagar without having the slightest intuition of the nerve wracking experience that was in store for us that entire night.
Enjoying the soothing evening in the golden lights of the dusk we were letting ourselves get soaked in the enchanting nature around. Driving till 6:30pm in the evening we crossed the Jawahar Tunnel to reach Anantnag. But as we reached the other side of the tunnel, our car along with other cars were stopped by the army from proceeding further, as there was curfew in the valley.
It was the day of Bakrid and fresh violence had spurted in the valley. We had stopped our car near the army check post, closer to a view point named "Titanic Viewpoint" in Anantnag district. Along with our car, we had almost 10 more cars going to Leh parked beside each other. As we stood near the view point, the view was beautiful indeed but there was no romance like situation then as portrayed by Jack and Rose in the movie Titanic. Rather we could hear anti Indian slogans echoing from different corners of the valley. As the night grew colder and darker we all felt the chill, more due to the provocative slogans. Without much conversations left between us, we made ourselves comfortable in the car which became our caravan – a temporary home to us.
Also Read: 10 Reasons Why Traveling With A Photographer Is Going To Be Your Best Vacation Ever
At around 10 PM at night the other cars started moving towards Leh. They were escorted by army jeeps till outskirts of Srinagar. But by then we all were little shaken by the day's incidents and so we decided to drive back to Delhi the next day without completing our exciting trip.
As we were discussing alternatives, there was a knock at the window near the driver's seat. Lowering the window shield Appu saw an army jawan standing near our car with an AK 47 in his hand. He asked the reason for still halting there while all other cars had moved out. Appu explained him the reason behind the halt and being a chivalrous army jawan he asked us to park the vehicle near the check post where he was on duty.
We parked our car as instructed by the Jawan near the check post. We survived that eventful night, on packets of biscuits and water that we had carried along with us from Delhi. Sleep was a distant dream for all of us, still we tried to catch up some while few stayed awake listening to the army vehicles patrolling the entire area throughout the night.
Read the Second Part: Leh-A Trip to Remember- THE CONUNDRUM (DAY 2)