While popping a pill of aspirin have you ever taken a moment to think about how it was made?It would have been a result of many days of dedicated research work done by many scientists. Their efforts are the reason why we are able to live comfortably long and stay healthy. Mr. Niranjan Koirala is one such scientist who is working on anti-cancer drugs in Korea. Here are excerpts from his interview.

Mr. Koirala, tell us something about yourself.
Well… I was born in the tourist town of Nepal, Pokhara. I'm currently a Research Scientist at the Department of Pharmaceutical Engineering, SunMoon University, South Korea, where I handle our top government funded projects.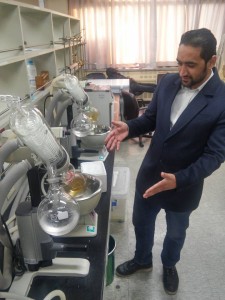 As a kid most want to be doctors, engineers, models, sportsmen, actors etc. but what made you choose science as your forte and find your career as a scientist?
My personal philosophy of life is everyone is everything at certain situations of life. We are doctors as we take care of our health, we are engineers as we build our relationships, we are models for our future generations and children, we are sportsmen as we need to excel and keep moving in life and acting is a gift we all possess in order to maintain our best side in a relationships.
I was always curious about the existence of life on the Earth since the time I was in high school. I constantly kept thinking about biology and chemistry of life which led me to explore the inner world of biological processes.
Any major contributions towards Bioscience and Biotechnology that you would like to brag about?
My contributions towards bio-science and biotechnology are my idea of double modifications of plant secondary metabolites like flavonoids in lab conditions. I experimented on methylation and glycosylation which helps the phenolic drugs to reach to the target cells with ease and remain stable for significant amount of time. I found this idea to increase the anti-cancer activity of the drugs towards several cancer cell lines like brain tumor, gastric cancer, hepatic cancer, melanoma cancer and had better anti-angiogenesis property. My idea has been appreciated by the Korean Society of Glycoscience, awarding me the "Best Poster Presentation Award" twice till date.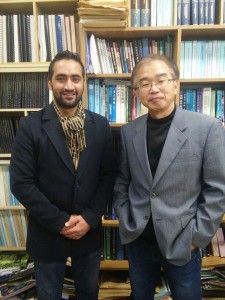 I have a patent with my professor, Mr. Sohng which is under trial. I have published two international scientific articles and four more articles are under submission. My scientific findings are targeted towards the scientific, pharmaceutical and cosmetic business communities.
After completing your masters in Biotechnology in Bengaluru, what made you move to Korea? 
This question surely brings smile on my face every time. I have lived in Bengaluru for almost six years with lots of memories to cherish. My Bachelor and Master's degree comes from Bangalore University. Being a Nepali, I wanted to serve my country and went back to Kathmandu and started teaching biotechnology. After a year, I thought the knowledge I had was somewhat incomplete to do something significant for science and technology. Thus, I decided to pursue PhD. After a few months, I was awarded full scholarship in Sun Moon University in the department of Pharmaceutical Engineering and here I am.
Describe a day in the life of a scientist/researcher like you. 
Well, this may sound a little boring and monotonous sometimes. Our life is all about science. We get up thinking about the research we need to execute and sleep thinking about tomorrow's work. We are inside the lab capsule all day long investigating the discovery of new anti-cancer drugs. We have fun times as well but always surrounded by cloud of research work. Working 14 hours a day makes us weak but stronger thinking that we are busy bees for the welfare of humankind.
What is the biggest challenge you have faced in your life?
When you are away from your home town and country you face a lot of challenges though they are for short times. Language, traditions, cultures and food habits may vary from place to place and to adjust to those new conditions may take time. As a student there were times when I had no money to buy what I wanted. I had to shut those desires in future basket. Now as a researcher I need to publish scientific articles in International journals which I think is the biggest challenge I have currently. I think challenges keep on coming and going. They polish you.
Motto of your life
Never give up. Believe in yourself. Be kind and dedicated. Success is the byproduct of what you have sown.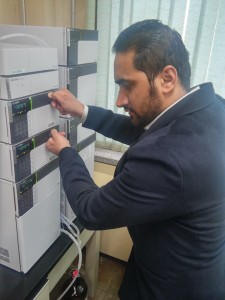 What do you miss the most about India?
Well, when I was in India, I lived the way I wanted to live on my own terms and priorities. As Nepal and India share many common cultural and historical backgrounds I am always comfortable to be in India. I miss the enormous knowledge that I can get from the diversity of India and of course my friends there in Bangalore who supported me and eased my stay in India.
Finally, what advice would you like to give the aspiring scientists and students passing out as Masters of Science? 
There have been times in my life when I felt I have no way out for a better future. This didn't stop me from moving towards what I really wanted in life. Now I feel more better and balanced because I never gave up my work. You need courage to pursue science as you will face real life phenomenon. Anyone passing out as Master of Science is the builder of Science and Technology; raw and crude initially, but refined as they move on.
Follow science. Have fun.