"I'm proud of how my art makes me feel and all it incites, it's matured beyond my years. I'm proud of my choices and you should be too"– one of Pranaiga's recent paintings read this. 
If you scroll down the Instagram page owned by Pranaiga Subodh, over_spill , the one thing which will catch your attention is the fearless attempts of creating something abstract and rustic. And the best part? You decide what that painting tells you. 
Team Tickled Pink had the opportunity to catch up with Pranaiga on her Single Line Paintings which are difficult to pull off, the exposures surrounding it, what keeps her tickled pink, and much more! 
How would you introduce yourself? 
I am someone who enjoys experimenting with new things, creating new methods, and introducing new ideas. I draw motivation from everything and every person in my life, and that helps me to express myself through art. 
How did you learn the art and when did you start your career in line art?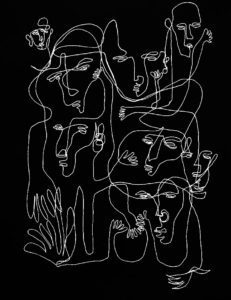 As a child, I would play with colors and it drove my mother crazy but it was then I found my first love. I started painting and drawing whatever I saw in front of me or if I had something in my head and it felt very organic. I soon discovered a way to best express myself. 
I eventually pursued a Bachelor's in Visual Arts and later, a major in painting. 
The theme of your paintings is single line art. Why did you choose to master this art form? 
A single line drawing looks simple but has a deep meaning. To me, the continuous line depicts the struggles, happiness, and the mundane routine which life has to offer. I was scribbling and then just went with the flow and there it all began. I start scribbling something and just go with the flow. It's about elements, composition, and single particular objects or people portrayed with just the flow of one single line. To me, single stroke art, Simplifies the complex world around us.
Do your works have a message?
Yes. Most of the works are personal and they do have meaning. While some of the other artworks don't hold meaning for me, I leave it to the audience to have their own thoughts about what the painting means to them.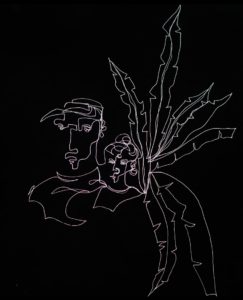 Do you have a favorite?
Yes. My favorite one is called 'Ooru'. Ooru means village in the Kannada language which is my mother tongue. It's about a farmer and his wife who work hand in hand to prosper together.
How long does it take to complete a painting?
It honestly varies from seconds to months. It depends on the concept and simplicity of the line. In the end, I want my paintings to reflect simplicity, singularity, and balance. 
Selling art is not an easy task. How do you promote your work and market yourself?
I would agree with you, unfortunately. It's an issue that all artists struggle with. I'm currently using Instagram as a place to promote my Art.
What keeps you Tickled Pink?
I have a very strong rural background and the fact that it gives me the greatest inspiration for my works and style keeps me tickled pink. I look forward to learning something new every day and bringing that to life with my brush/pen. 
Have you ever exhibited your work? If yes, where?
I had exhibited my work in the well known Karnataka Chitrakala Parishad. I had displayed two of my series called 'Roots & Connection.'
It was an enriching experience as many art enthusiasts interacted with me and spoke about their perception of the painting. I sold three of my artworks by the end of the day. 
How can a person connect with you if they want to purchase your artwork?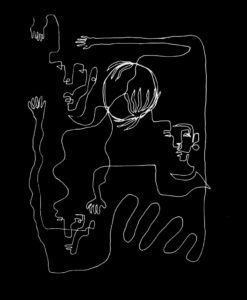 You can get in touch with me through Instagram @Over_spill and I also provide custom made paintings.