Modi turns 66 today! (DOB: 17 September 1950)
NATIONAL
-Modi is going to invest billions of dollars to modernise India's creaking railway system with a bullet train connecting Ahmedabad and Mumbai in just 2 hours. Japan is going to help us in making it a reality. Modi says India truly values ties with Japan. Yes… ties with the powerful is the way to position as a power.
-You know how we had to get our passenger bags tagged and was a major irritant.. well that's in the process of going to be eliminated all together. 17 airports are stamp free as of now and more to follow.
IAF Marshal Arjan Singh Died yesterday at 98.
-After Aadhar to be linked to phone numbers, it is soon going to be mandatory for driving licence too.
INTERNATIONAL
-Rohingya muslims have been migrating to India after facing persecution in Myanmar. Some 40,000 of them have settled in India and Home Minister Rajnath Singh says the issue will be dealt strongly.
–Apple iphone X released last week on the occasion of its 10th anniversary they have released a facial detection, super expensive phone. iPhone 8 and 8 plus were also released with no much changes. A price placement strategy to influence people to go for the expensive version.
TWITTER TALK OF THE COUNTRY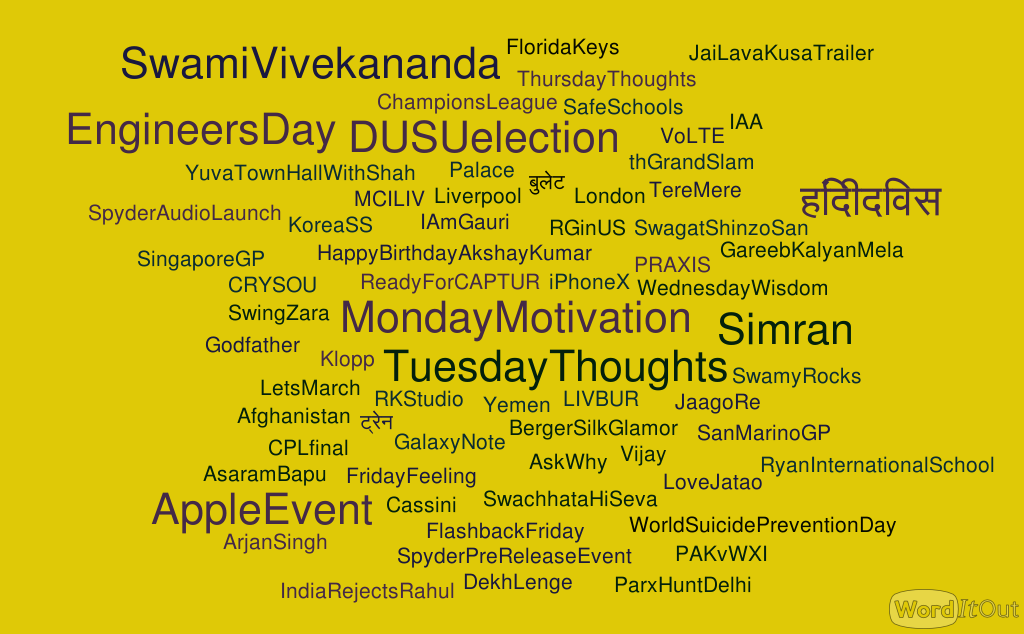 SPORTS
–India vs Autralia 5 match ODI series– First match starts today in Chennai, chidambaram stadium. Age old rivalry begins.
-After losing the World Championship final, PV Sindhu, enters Korea Open Finals to face the world champion Nozomi Okuhara.