Menstrual Hygiene Day or MHD was initiated in 2014 by a German-based NGO WASH United. MHD is celebrated on the 28th of May as an annual awareness day to highlight the importance of good menstrual hygiene management. 
Now, menstrual hygiene management is a global issue and so are the taboos related to menstruation. 
In India, National Family Health Survey 2015-2016 estimated that of the 336 million menstruating women, only about 121 million (roughly 36 percent) women were using sanitary napkins, locally or commercially produced.
Though MHD is long gone, the fight to make Periods normal and hygienic still continues. Team Tickled Pink collaborated with Ritika Chhetri, an 18 years old Sociology student and digital creator who uses her social media platform to support and raise awareness about various movements that concern women, menstruation being one of them. 
Her Instagram post on the Menstrual Hygiene Day read: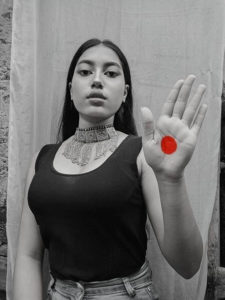 According to the UNDP Human Development Report 2019, the common age at which a girl hits puberty (in India, 11.6 years on average) is the most common dropout age.

23 million girls drop out of school when they experience menstruation. 

Only 36% of women in India use sanitary pads. 
Ritika also said, "All these facts are the result of period-shaming in India. Periods are considered a taboo and are rarely discussed in homes and schools. Besides, girls are humiliated & treated as untouchables and are taught that periods are an embarrassment.
I am a girl, I bleed, & I am not ashamed of it, because this blood holds life for nine months & is the cause of our existence. Let's put a 'period' to period-shaming." 
Just like Ritika, many women across the globe are taking one step at a time to eradicate taboos against menstruation. Peri Gives is one such project designed by Erin Song which provides foldable posters with pockets that enables people to give and receive menstruation products without barriers. Menstruation is normal is another photography project which normalizes periods. 
Also Read : Handcrafting happiness
Apart from individuals, various NGOs are also working day and night to raise awareness, educate women and children, and provide safe periods to all. Most NGOs have an option where you can donate, volunteer, or take part in various events to do your bit. 
Goonj: was formed in 1999 by Anshu Gupta, together with his friends and his wife Meenakshi. Highlighting Cloth as a metaphor for basic but ignored needs of economically weaker people Anshu started Goonj to bring clothing into the development agenda as something important to work on. Goonj is breaking the culture of shame and silence around menstruation for the last women in rural and slum India and addressing their menstrual hygiene challenges with a Triple-A approach on menstrual Access

,

Awareness

, and

Affordability

. It motivates the urban masses to contribute cloth for making 'MY Pads' cloth sanitary pads for women who struggle even for this basic. One can also donate anything which is not being used at your home, office, or community and could be of use to another. Clothes, household items, stationery, old newspapers, one side used paper, furniture, bedding, export surplus, generators, medicines, dry ration, blankets, etc. are a few examples.

Myna Mahila Foundation

: Empowers women to speak about issues they are most afraid to discuss aloud, like the chatty Myna bird. They employ women from urban slums in Mumbai to manufacture and sell affordable sanitary pads back into their communities, improving menstrual hygiene, providing stable employment, and building a trusted network. Employed women not only manufacture but also sell sanitary napkins door to door in Mumbai's slums. Myna Mahila Foundation reaches over 10,000 women a month in the slum and slum redeveloped areas in Mumbai.

Humans For Humanity

: A Dehradun based NGO is creating awareness about menstruation, menstrual hygiene, and teaching people to produce reusable sanitary napkin kits and earn from the same as part of its project WASH (Women Sanitation hygiene).

WaterAid India

: Stresses the need to find sustainable alternatives to menstrual hygiene practices in India. According to its estimates, about 21,780 million pads are disposed of annually, posing a major threat to the country's waste management crisis. Hence they are trying to introduce alternatives to sanitary napkins such as menstrual cups, tampons, and eco-friendly sanitary pads.   

The Bloodlines Project: is driven by a goal to give everyone access to a safe, healthy & informed period. They believe

that all menstruators should have access to the necessary education and products to have a healthy, safe relationship with their period, regardless of their age, gender identity, or income level. The Bloodlines Project raises awareness and normalization for the cause by photographing one menstruator per week. Their team provides makeup artistry, beautiful set styling, and wardrobe, as well as a unique photographic perspective to showcase menstruation in a new light. It also aims to distribute 250 eco-friendly hygiene packs per year to houseless and fleeing menstruators. Their packs include tampons, pads, cups, hand sanitizers, and wipes.

PERIOD

: is a global, youth powered non-profit that is fighting to end period poverty and period stigma through service, education, and advocacy. The organization was founded in 2014 by two 16-year-old high school students with a passion for periods. To date, PERIOD has addressed over 1 million periods through product distribution and registered over 700 PERIOD chapters in all 50 US states and in over 40 countries. PERIOD HQ's major focus right now is serving the marginalized communities that are being hit the hardest by this global crisis.