We all can agree that the smell of freshly baked cookies is heavenly. But have you ever tasted vanilla cookies with decadent key lime topping?
Kristi's Key lime cookies are Florida's best-known cookies baked by the owner of Be Happy Cakes, Kim Casciero, and her team. As Key Limes were originally grown in Florida, Kristi's key lime cookies and cakes are an authentic Florida treat.
Once you get candid with Kim, it won't take you much time to realize that she is a "good vibes only" soul who takes life as it comes. She looks forward with excitement to delve into new adventures. Be it moving to the sun-soaked beach city of Naples, starting her baking company post-retirement, looking after her parents, or expanding Kristi's key lime cookies market by going Gluten-free and Kosher- she is always game!
Team Tickled Pink had the absolute joy of chatting up with Kim Casciero on her life as a graphic designer, the moment she decided to give the folks of the USA and Europe a taste of key lime cookies, the innovative upcoming dessert from Be Happy Cakes and what landed her in the Emmy Awards and The Ellen Show!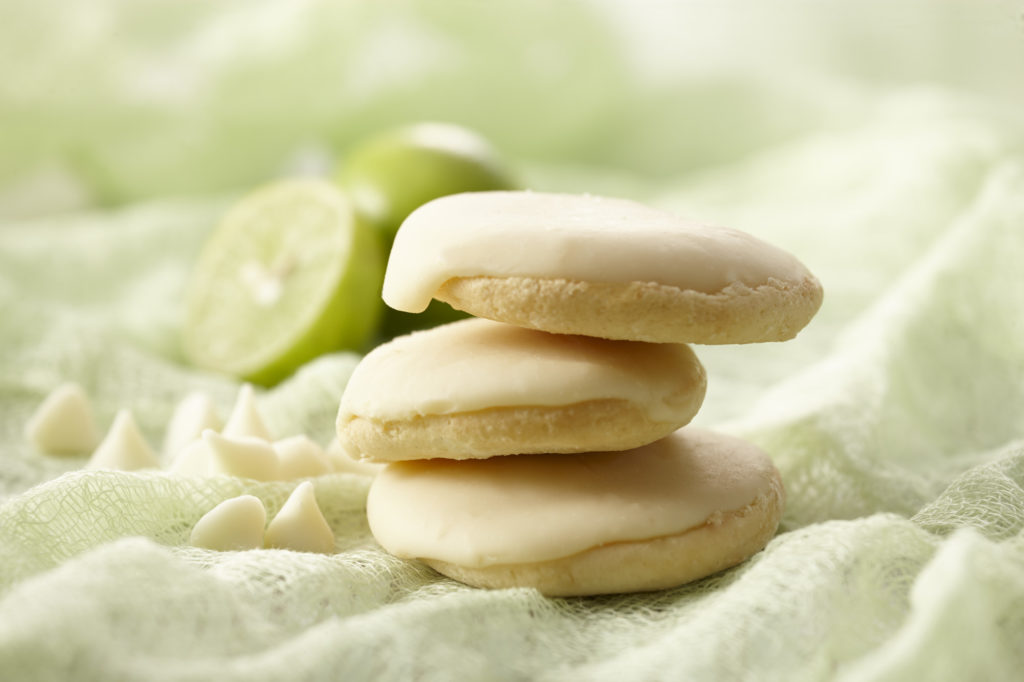 What makes the Key Lime Cookies one of Florida's best-known cookies?
Key Limes are native to Florida and their flavor is the perfect representation of the state. South Seas Island Resort on Captiva Island Florida, was originally a key lime farm. Although they grow in California and Texas too, Florida is best known for them.
Event and Conference planners use our Key Lime Cookies as welcome gifts for their events. Brides use them for welcome bags and favors. Hotels use them for amenities and tourists seek out and take Key Lime items home with them. Our Cookies are the perfect Florida treat.
When and how did you come up with the idea of baking cookies and making it everyone's favorite?
After a successful career in graphic arts/printing in the Baltimore, MD area, I decided that Naples was going to be where I lived when I retired after I stepped foot on Vanderbilt Beach. So in 2009 I finally made the permanent move to Naples and brought the love for baking that has always been a part of my life with me.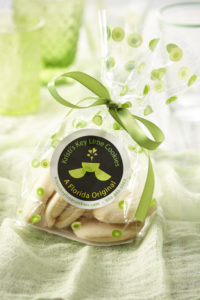 As a child, I was inspired by my grandmother as I watched and helped her bake and cook. I enjoyed baking biscotti, Italian cookies, cheesecakes, wedding, birthday, and specialty cakes for friends, family, children's parties, event planners, and as gifts for my clients over the years. Wanting to tap into this as an opportunity for a business, I created Be Happy Cakes in 2009. The company started by supplying cheesecakes & pound cakes to local restaurants & country clubs. These, of course, included key lime cheesecakes and my unique key lime pound cakes.
In 2010 my life took an upside downturn as my brother passed away from Cancer. My parents living in Baltimore both had Dementia and I had to move them with me. As I became a full-time caregiver for them I realized that I quickly needed another way to make a living and pay the mortgage.
Also Read: Gomics- Everytime when anxiety hits
I sat on the beach one day and said, what are we missing in the Florida food arena? Then the light bulb went off. We are missing a good fresh-baked gourmet Key Lime Cookie. Wanting to create a decadent Florida treat that would be easily shippable, I created and tested my recipe and finally, after many trials, Kristi's Key Lime Cookies (named for my niece) was born. This cookie, from Be Happy Cakes, reflects the flavor that is Florida.
We know that there is a high demand for those delicious key lime cookies. What is the process of baking them and how much time does it take to get them?
We bake to order with all premium ingredients- real butter, milk, and eggs. We are a small batch at a time bakery with 5 employees. Since we bake to order we require a minimum of 3 days from order to shipping. We do try our best to accommodate rush orders and we are always just a phone call away. Our corporate and hotel/resort orders are 3 to 5 days from the date of order. We also do custom labels so time for graphics work etc takes a little longer.
Apart from being customers' favorite, the Key Lime Cookies are Kosher and gluten-free. What made you come up with these options?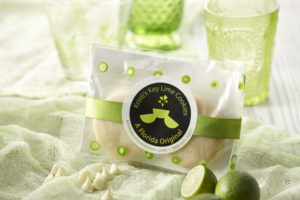 We explored the idea of Kosher since we found there was a high demand in areas of Florida for it. Especially the wedding and Bar and Bat mitzvah favors. So we did our due diligence and had a team of 2 rabbis come in and do their thing! Great decision, it opened up another market for us. As for Gluten Free, my mom had celiac and I baked for her. Then the Gluten-Free craze started so we came up with that version. We are on a limited baking schedule with those though.
How many cookies do you typically bake in a week?
We bake about 10,000 cookies a week in "season" and around 5,000 normal times of the year but it's growing every day.
And what are the various quantities in which the customers can purchase it?
We have various sizes. They all come in our signature green dot cello bag or beautiful clear tins. All our sizes are packed by weight but we strive to keep them consistent. Our best gift size is the 1 lb Decorator Can (18-20 cookies).
We just introduced a 1 lb bag (20 cookies), ½ lb bag (10 cookies), ½ lb Tin 9 (8-9 cookies), and ¼ lb bag (5 cookies) 2 pc pack.
We are introducing a new product in July…Key Lime Brownies! Traditional Chocolate brownie with our decadent Key Lime topping! YUM!
While Key Lime Cookies are a specialty, what is your favorite dessert?
HMMMM. Anything Chocolate, Raspberry, or Almond. I am partial to my Cannoli cheesecake and my chocolate Almond Raspberry cheesecake.
We admire your passion for baking and having happy customers. Apart from this, what keeps you Tickled Pink?
The beach! Sun, sand, and surf! I have always loved the water and the beach! I LOVE where I live! It was my saving grace when I was taking care of my parents. I love to travel although I don't do much of it with running my business.
Talk to us about the various awards and recognitions your sweet hard work and Key Lime Cookies has got you.
We have been very fortunate to have our cookies in some amazing places! We were invited to be in the 2012 News & Broadcasting EMMY SWAG bags. They loved them so much, they asked us to be in the 2015 Daytime EMMY SWAG bags at Warner Brothers Studio in Hollywood CA. We were the only item to be in the bags for a second time.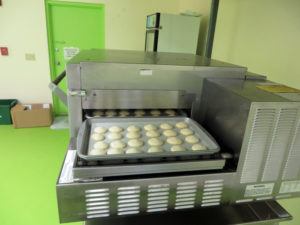 We were also invited to the ABC after party. It was truly a once in a lifetime experience. This landed us at The ELLEN Show and we brought a gift basket for her with her logo on the cookie labels hoping we would get them to her and we did! So Cool!
We also every year are honored to represent the state of Florida at the Taste of the South Gala in Washington DC. Our cookies are giving out as favors to the guests. The first year we did this, then-Governor Rick Scott (who lives in Naples) found out and invited us to the Governor's Mansion for a leadership dinner (and of course we took cookies for all the state and dinner attendees).
He also took our cookies and orange juice to the troops in Kuwait for the 4th of July as a taste from home! Our cookies also were used by the US Army in gift boxes to the lady soldiers as they were deployed back to the US from Korea. Such an honor!
We have been published in Naples Illustrated, Naples Daily News, Spotlight magazine, Gulfshore Life, and many more.
Our cookies have been to many countries like Poland, Spain, England, Ireland, Germany, Australia, The Arctic Circle, and Russia for various occasions. And of course all over the USA and Caribbean!
How do you market your brand currently?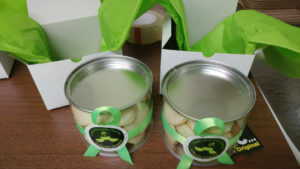 I research where I would like the cookies to be and market by cold calling or setting up appointments and visiting locations in person. We also run promotions online and sell through our website. I am a hands-on person and love the interaction with potential customers. It is so important for them to see me and know who I am and what my values are.
Personal service and appreciation of clients have been lost since internet sales and marketing. Word of mouth is also an important part of our sales and marketing. The cookies hold their own! You can visit our Instagram and Facebook page to get regular updates about our desserts.
Have you considered collaborating with food bloggers to expand your audience reach?
Yes. I have reached out to a couple through Instagram and Facebook but not regularly. That is a weak point for me. But it's a huge opportunity to expand my market! Word of mouth is the best sales you can get! I have discussed it with my web designers about having a blog of my own eventually.
Would you, in the future, consider shipping Key Lime Cookies and other desserts baked by you to the Asian market, if ordered?
I would have to know more about that. Overseas shipping in quantity would not be a fit for us as we are a fresh-baked, no preservatives item with a short shelf life of about 28 days with optimal conditions. We are a resort, event/conference, gourmet market, gift-giving item.
Sigh! We wish that we get a taste of those decadent key lime cookies if Kim decides to visit India in the future.