'I'll take a latte' said the girl with long silky straight hair. The kind of hair I wish I had (Yes, I look at other women and their attributes and most of the times end up wishing I had them. Don't look at me that way… all women do that.)
'Oh! Me too', said the round plump girl standing next to her. She had her hair tied up. 
'I'd like a Frappuccino', said another girl who was with them. The three girls looked like friends, at first glance. 
'Let's head upstairs…', the first girl said when their orders were placed before them.
Starbucks in Church Street is always abuzz with the elite and the wannabe elite.
It's a privilege to watch the haut monde converse flippantly about their uber-cool businesses or romance or just sit solitarily engrossed into their laptops, over an exorbitantly price coffee (Exorbitant compared to the cafe coffee day cappuccino I drink for free at office- twice a day!)
I wonder what's with the emerging paradigm where common people conceive it dandy to make their profession an object to be flaunted? (Don't blame me if you find me doing that too. I'm just trying to fit in ☺😉⁠)
As me and my friends head upstairs with the drinks and desserts, I spot the same three ladies who were at the billing counter ahead of us, busy on their phones. I settle down with my friends, catching up with the events in our lives. Amid the conversations, I look around and manage to observe the people around us. And I wonder what happened to the good old couples who used to frequent the café's few years ago and cozy up to each other over a hot brew of coffee. The sight of couples newly in love is like the sight of a juicy watermelon slice on a sweltering day. But they seem like the dodos now… extinct!
'All I want to do is gawk at some cute boy and girl holding hands and trying to get comfortable', I blurt my thoughts out loud to be rewarded with weird looks from my friends, like I just won the award of being the pervert of the group.
'They are just nice to look at and comment on', I shrug and add as a justification.
I sipped at the coffee and our conversations continued amid selfies and pictures. A good conversation and coffee could heal a soul and it did just that to me.
On our way out, I couldn't help but look at the three ladies that walked in with us into the cafe. Seated opposite to us, I found them still engrossed in their cell phones.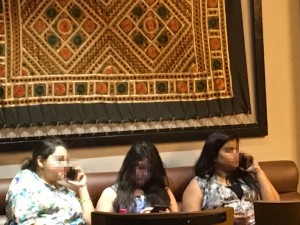 My friend caught me looking at them with unfair disappointment, 'They have not spoken a word since they came here you know', she said.
I looked at her doubtfully and she said, 'It's true! I've been noticing.'
I glance at them and back to my friend, 'The closer we get to the rest of the world, the farther we go away from the ones close to us', I say, trying to apply my bookish wisdom.
'One must be probably texting a guy who lives in another continent, the other must be checking her Instagram or Facebook likes and comments, the third must be checking her phone just for the simple fact that her other two friends are busy on their phones and she has nothing but the phone to give her company.' My friend (wiser than me), explains.
I sigh disappointedly as I walk out and use an epic line which I will quote below:
This maybe a frequent line used by your grandma and grandpa…
What is the world coming to!