The future is shaped by your dreams, so stop wasting time and go to sleep! And while you are at it, hang a beautiful dreamcatcher above your bed.
Though dreamcatchers are associated with Native American culture in general, it's pretty hoops and hangings have made it famous everywhere. Once used as a talisman to protect children from nightmares, these beautiful hangings now can be found in all shapes, sizes, and colors.
Team Tickled Pink had a chat with the duo (Srishti and Spoorthi) who are living their dream by handcrafting the most unique dreamcatchers and spreading positivity.
How did you come up with the idea of making customized dreamcatchers?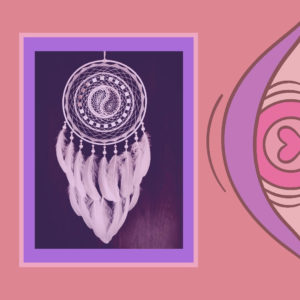 We came across a few dreamcatchers on Instagram, Pinterest, etc, which made us curious to learn how to make one. Both of us are software engineers by profession and there was an activity in our office of putting up a fete. We thought of being creative and decided to handcraft and showcase dreamcatchers. We got a lot of appreciation for our work and that's when we thought of taking it forward to be more professional.
How would you introduce Twinvibes?
Twinvibes is a brand of handcrafted dream catchers established in the year 2017 by twin sisters Srishti and Spoorthi. It's an online store of dreamcatchers varying from keychains to large cluster dreamcatchers. We bring creativity and individual taste together to customize each product. So far, we have sold over 1500 unique customised dreamcatchers.
How did you learn the art and when did you start Twinvibes?
We are proud to say that we are self-taught artists. We learned the initial process of making dreamcatchers by watching a few videos on YouTube. We used to practice it during our free time and made ourselves perfect until we started selling it to our customers. When our family and friends started loving our work, that's when we decided to start our brand Twinvibes. We have put enormous effort, dedication and sleepless nights to reach where we are today.
Also Read Brands and Stand the New Zeitgeist
Do you have a favorite?
It's hard to choose one as our favorite. We love all our creations since we do it with love and positivity and each one is unique from the other.
What does a dreamcatcher symbolize to you? Your viewpoint.
For us, a dreamcatcher is a happiness. It radiates positive vibes around you. Creating one lightens up our mood and helps in embracing positivity in us.
Fun fact: The main strings of a dreamcatcher represent spider's web which catches bad dreams, while the hole in the center is where the good dreams pass through down to you.
Traditionally dreamcatchers were made of willow and sinew which wouldn't last. What is your process of making a dreamcatcher like?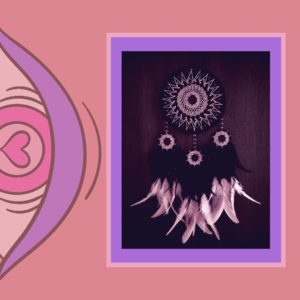 Making a dreamcatcher requires patience. From finding the best quality raw materials and to get the perfectly weaved dreamcatcher, it takes a lot of time and effort. Firstly we decide on the design, color combination, and suitable raw materials. Then comes the process of creating the dreamcatchers i.e weaving, attaching beads, and feathers. The packaging is also one of our major concerns since there are chances of dreamcatchers getting damaged during the shipment. So we pack our dreamcatchers with utmost care using suitable packaging materials and ship it using carton boxes so that they reach our clients without any damages.
How long does it take to make an order from the customer and get the dreamcatcher delivered?
The making time depends on the size and design of each dreamcatcher. For small dreamcatchers it usually takes 7-10 days to get delivered. For cluster dreamcatchers, it takes around 20- 25 days inclusive of shipping time.
How do you promote your work and market yourself?
Our family and friends have helped us a lot in promoting our work. Besides promotional pages, collaboration with influencers has also helped us in widening our audience reach.
What keeps you Tickled Pink?
Learning new techniques keeps us tickled pink. Viewing the final product is always an exciting factor. We love it when our customers give us new ideas and request us to customize it for them.
Have you ever collaborated with event companies to supply them dreamcatchers in bulk?
We have not collaborated with event companies, but we've delivered bulk orders up to 1000 pieces for weddings based on the requirements directly from the Bride/Groom.
How can a person connect with you if they want to purchase dream catchers?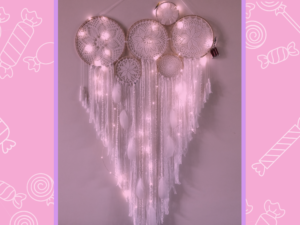 You can always get in touch with us on our Instagram handle @twinvibes__ or our Facebook page Twinvibes for the orders. We ship our products across India and hopefully we will ship them worldwide soon.