Bangalore is swarming with cafe's. With a new one brewing around in every corner the competition is high and the cafe's are becomming better with new themes and ideas. Well… all we can do is sit back relax and enjoy the hospitality and the variety.
1. Smally's Resto Cafe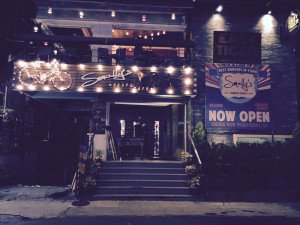 As the name suggests the theme for the cafe had an interior which gives you a feeling of everything being small with cute tables and chairs. You will love the ambience as soon as you enter the place. The cosy rustic interior gives a very trippy feeling and the food is tasty.
Why visit?
The theme and setting is different and makes you fall in love with the idea of the whole setting plus the food is delicious.
Location: Ulsoor and Church st
Cost: Rs. 800 for two people (approx.)
2. The Ants Cafe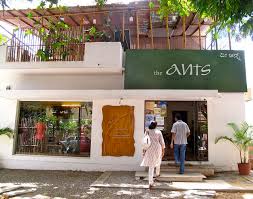 The best part about this cafe is how informal it is. Like walking into your friend's house. With a handicraft shop attached to it, the place is attractive to shopaholics as well as the food entusiasts.
Why visit?
Well known for breakfast and the variety of delicacies, the place is a must try if you want to spend some time with your friends or a date.
Location: Indiranagar
Cost: Rs. 800 for two people (approx.)
3. Urban Solace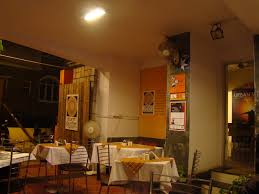 The place is set right opposite to ulsoor lake in the heart of Bengaluru. The chic restaurant also offers wine with food and the ambience is chilled out. They also serve hookah which is an added feature to this place.
Why visit?
You can drink your wine or smoke your hookah with a perfect view of Ulsoor lake from the first floor.
Location: Ulsoor lake
Cost: Rs. 500 for two people (approx.)
4. Dyu Art Cafe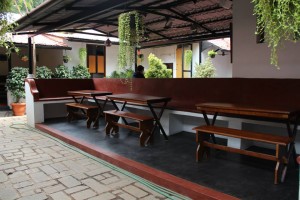 What makes them special is the fact that the visionaries of the cafe built it from the scratch on an empty plot making the architecture ideal for a serene evening. A classy place with plenty of art and craft to look around, take your time and do the thinking. If you are a writer you couldn't ask for a better cafe to sit around and write over a cup of coffee.
Why visit?
Not very heavy on the pocket and a peaceful calm place to hang out after college or work.
Location: Koramangala
Cost: Rs. 400 for two people (approx.)
5. Coffee On Canvas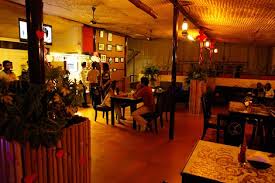 A casual place for breakfast gets usually crowded in the evenings. the outdoor abmbience makes it lively for hangouts with friends.
Why visit?
Try the elaborate coffe menus and spend time with your freinds by playing the board games that the place has to offer.
Location: Koramangala
Cost: Rs. 400 for two people (approx.)
6. Matteo Coffea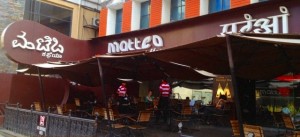 The dim lighting and the music makes this place a happening on located right in the city center. The pasta's here make the cut for being delicious. A bustling cafe in a bustling street right opposite starbucks.
Why visit?
A chic and standard place to go on a date or hangout with friends.
Location: Church street
Cost: Rs. 600 for two people (approx.)
Also read: Hampi- The Land of Temples
7. Om Made Cafe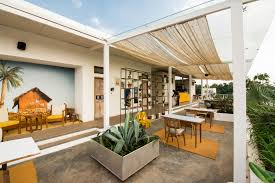 The romantic rooftop setting is perfect for a sunset experience. The open air gives a well deserved view of the city that you can enjoy over a glass of wine.
Why visit?
If you are a steak lover, you will enjoy the place especially with your date. Come here with your partner for a time that will be well spent.
Location: Koramangala
Cost: Rs. 1,500 for two people (approx.)
8. Cafe Thulp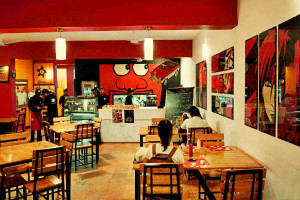 What attracts you to this place is their food with fancy names. The place gives good vibes with book shelf in a corner and a creative, bright and fun ambience. A lot of thought has been put into designing the menu card and coming up with awesome names for the food items.
Why visit?
The place is known for their tasty burgers with fancy names. You can spend time here with friends playing games or reading books over a burger.
Location: Ulsoor, Indiranagar, Kammanhalli, Koramangala
Cost: Rs. 1,000 for two people (approx.)
9. The Hole In the Wall Cafe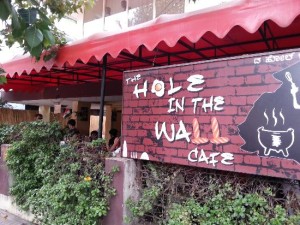 The Hole in the Wall Café is a perfect place to have king sized breakfast. A simple house converted into a cafe is ideal for a lazy morning breakfast or brunch with their extensive breakfast menu.
Why visit?
Perfect place to try waffles and pancakes and a hub for young college students.
Location: Koramangala
Cost: Rs. 650 for two people (approx.)
10. Cafe Noir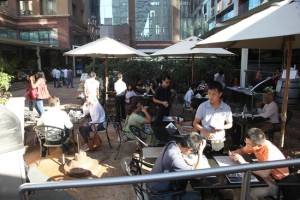 Noir in french means dark, but the restaurant is anything but that. A nice cafe located in the uber posh UB city mall yet goes easy on the pocket. They also have live music playing over the weekends to add to the charm.
Why visit?
The place serves french and continental food and it is finger licking good. Plus the location itself gives you very chic vibe.
Location: Lavelle road
Cost: Rs. 1,200 for two people (approx.)
11. Truffles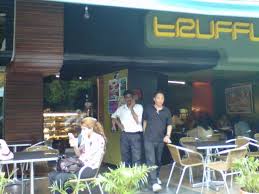 This place is packed most of the times and long wiating queues make you wonder whats with the hoopla. But trust me there is a reason why it is so. The food is delicious. One of the best fast food joints with moderate prices make it a favorite with the crowd
Why visit?
Huge burgers, great starters, delicious steaks and an innovative drinks menu has one coming back for more. Try the burgers and Ferrero Rocher Shake
Location: Koramangala
Cost: Rs. 650 for two people (approx.)
12. Table Blue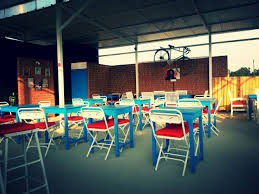 The place has a rustic ambience and as their name suggests you get served on blue tables and  a rooftop overlooking indiranagar. The place also serves wine and the place in itself gives you a pleasant feeling.
Why visit?
Their casual rooftop is a nice place to hangout at nights
Location: Indiranagar
Cost: Rs. 1,300 for two people (approx.)
Courtesy: Zomato