Are you planning for a vacation? Has Hampi been on your list? If not, it better be. The ruins have been named as UNESCO World Heritage Site. I have been to Hampi twice already now. The place never fails to bewilder me. The mystique, ethnicity and peace that one can experience there, is seldom found anywhere else, at least in India. Located in the northern part of Karnataka, it holds the ruins of the Vijaynagar Empire. Should I call the city a mega museum, a relic, or an architectural marvel? Nevertheless, it is a wonder.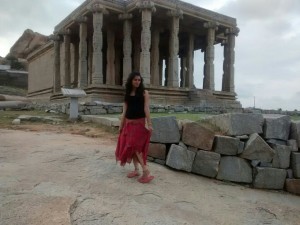 How to reach Hampi?
You can reach Hampi (a small town) by rail or bus if you prefer public transport. The station and the bus stop are at Hospet (main city) which is a town about 12 kilometers away from Hampi. You can easily take a bus or rickshaw from Hospet to Hampi.
We wanted to keep our travel expense minimal so we booked a train ticket (traveling in a sleeper can be much more comfortable than a bus and also costs a lot less.) Once we landed in Hospet station, the auto guys tried to hassle us into availing their rickshaw by lying to us about the bus stop being 2 km away. But when you walk outside the station you will easily find a bus which will take you to Hampi for a low fare.
Once there….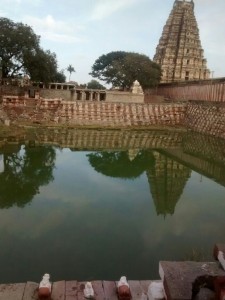 The bus drops you off at Hampi bus stop which is close to the famous Virupaksha temple. So here you need to decide. Do you want to stay in the commercial side of the hampi town (ideal for family and visiting the ruins) or you want to have some peaceful stay away from the clamour and just laze around all day. If you are the later kind then you are just like us and this blog will help you much.
For the ones who want to visit with families and want to visit the ruins, you can stay in a hotel close to the bustop. But for people looking for a quite lazy time you need to go to "Hampi Island"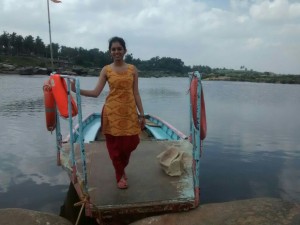 How do you get to Hampi Island?
Once you are near Virupaksha temple, ask around for hampi island or the boat. Its a short walk from around the temple to Tungabhadra river. The Tungabhadra river ferry will let you cross to the island on the other side for just 10 Rupees (20 if you are carrying luggage).
Also Read : Royalty redefined: Evolve back resort, Hampi
Once on the island….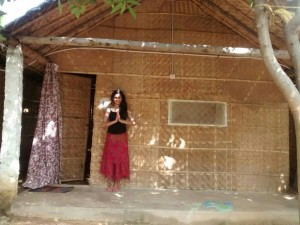 You need to climb few steps to reach the guest houses. You will be greeted with a sight of foreigners, mainly hippies smiling and greeting you (generally very friendly crowd). Walk down and choose a guest house you want to stay in. Both the times I chose to stay at a very beautiful place called "Laughing buddha". The price for a room for night should range from 400-600 per night during season and you can bargain if you are planning to stay for a long time. The guest house also has a cafe where we had our breakfast lunch and dinner except for 2-3 times when we decided to try different places.
Laughing Buddha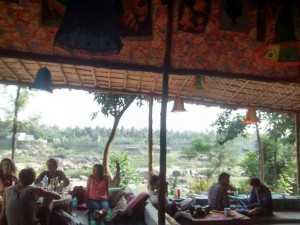 Why I chose this place twice is because how wonderful the owner and the employees are and the view from this place is souful. When you sit in the cafe you can see the virupaksha temple on the other side of the Tungabhadra river and the mountains all around. If you are feeling too adventurous you can climb down from the cafe and take a dip in the waters too.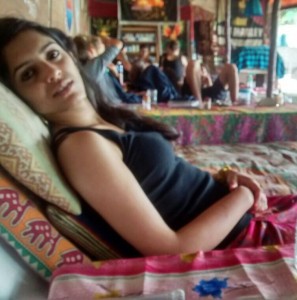 Apart from the scenery and the location, the food they serve here is amazing as well. Though they take a long time to deliver, its worth the wait. You must try the Enchiladas and Roti and curry here.
Find the best deal in Hampi .Compare prices, and read what other travelers have to say at TripAdvisor
Places you can visit in the Hampi Island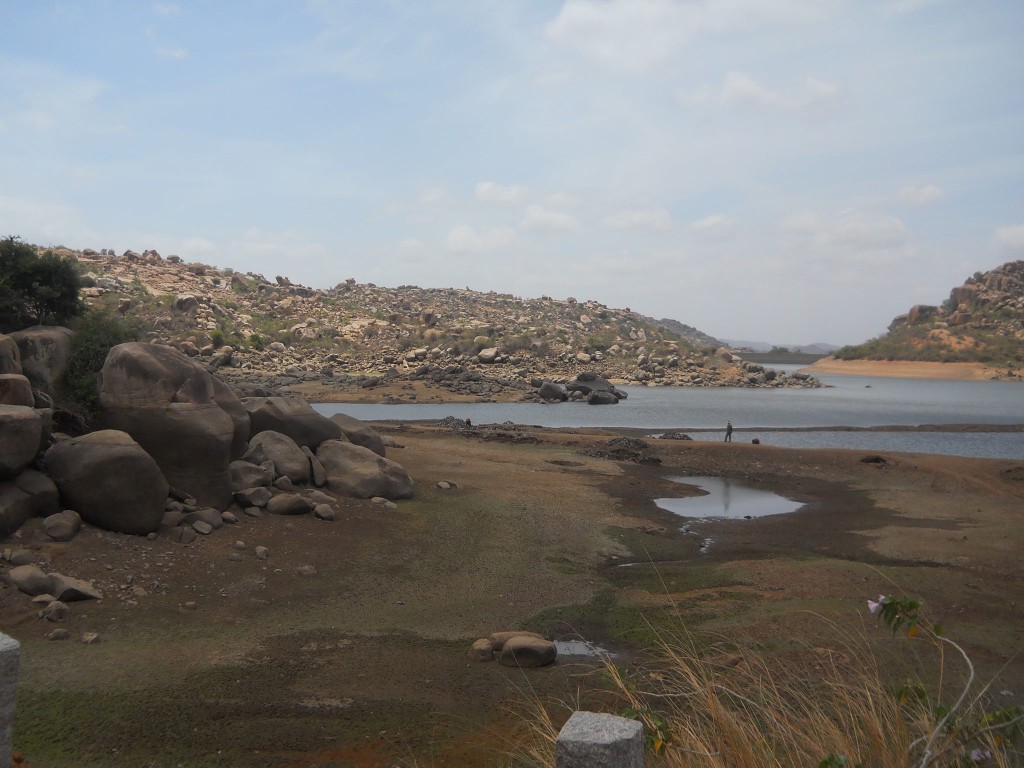 Sanapur lake (A must… the lake is breathtakingly beautiful)
Hanuman temple (Also called monkey temple)
Lakshmi temple
Durga temple
Anigundi Village
Nava brindavan
Chinthamani math
Rishimukh temple (A beautiful temple apt for bouldering, where the Tunga bhadra takes a bend)
Places you can visit in main Hampi
Here are the places in the order of what we visited.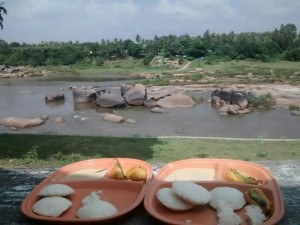 But before that, as you cross via ferry to the main Hampi, you can check out the stalls (This is behind the virupaksheshwara temple). After shopping we sat down at a idli stall to taste the authentic flavors of the town. The breakfast we had was amazing as was the view we got. You shud try this place too.
Virupaksheshwara temple: The main temple in hampi. What is amazing about teh temple is the fact that when you go into the temple a small hole in the wall reflects the temple's Gopura inverted (One of the many architectural marvels).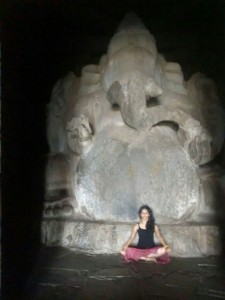 Kadlekal ganesha: A monolith image of the mighty lord ganesha is worth seeing and is very close by to Virupaksheshwara temple.
Krishna temple:  A little distance from Kadlekal ganesha is the ruins of Krishna temple.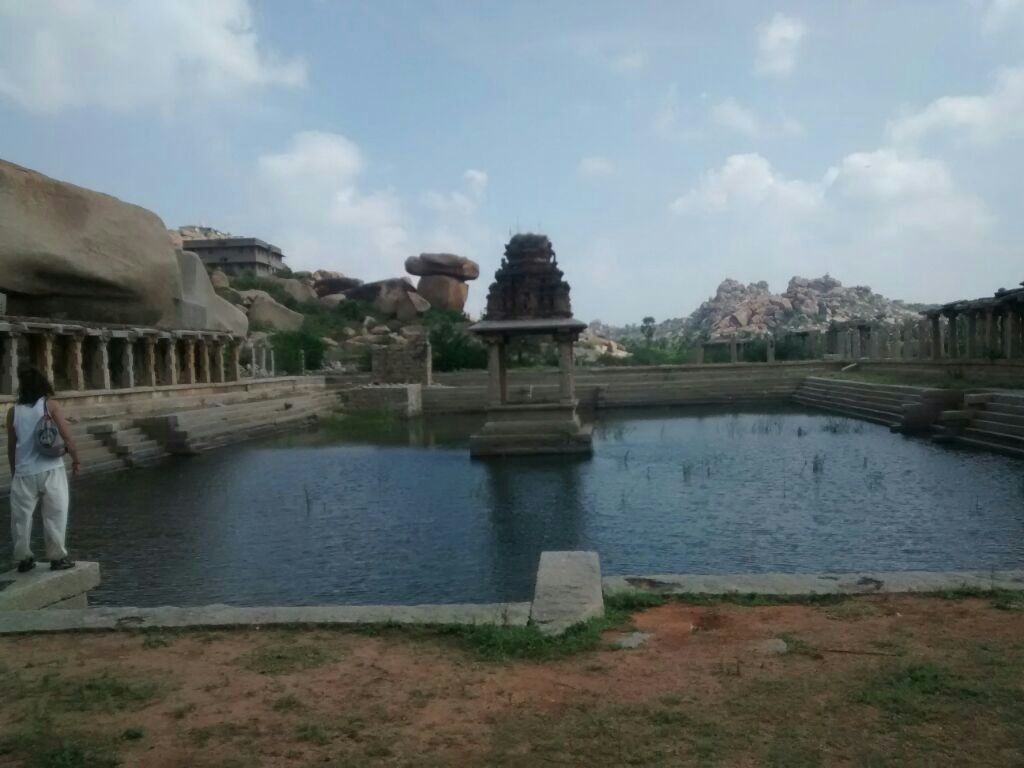 Krishna bazar: The Krishna bazar was what struck me as the most beautiful and serene place. A must if u like a simple version of beauty.
Narasimha: A monolith statue of Lord Narasimha
Badavalinga: Like all other places this huge linga (Lord Shiva) is also located close by from the others.
Underground shiva temple: You can visit this and you will find an idol of linga (Lord shiva) submerged in water.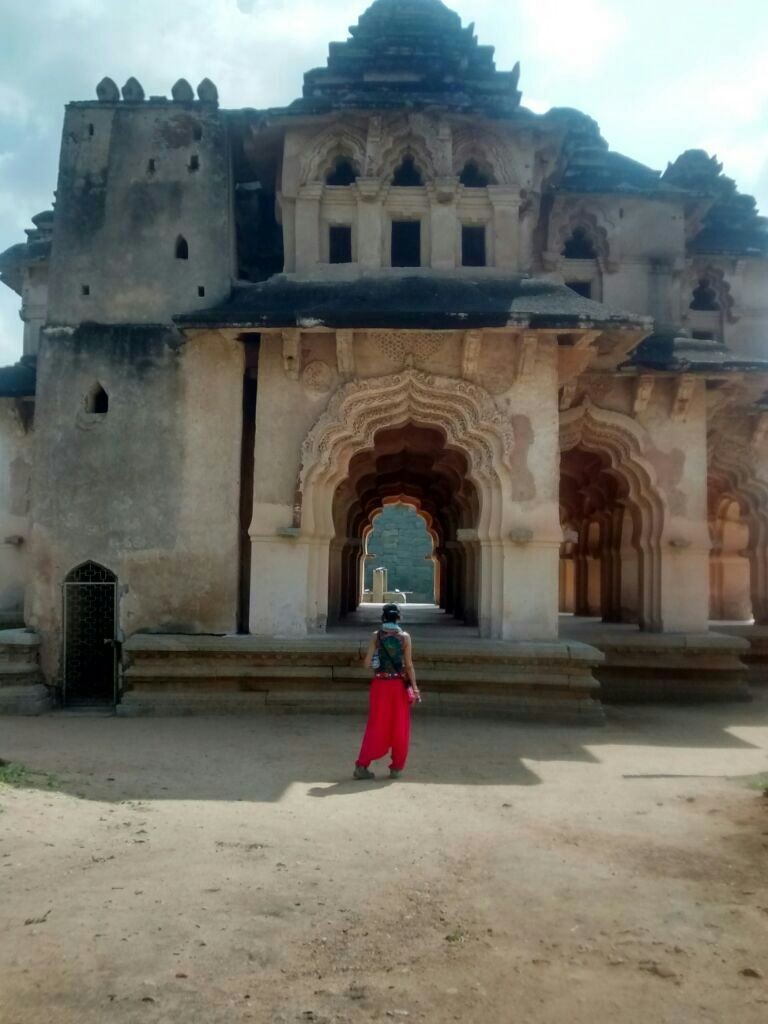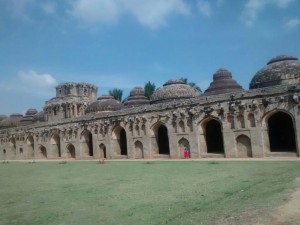 Lotus temple: Requires you to buy UNESCO ticket which costs minimal and you can see the following places:
Watch tower, Queens bath, Lotus mahal, Elephants stable, Museum.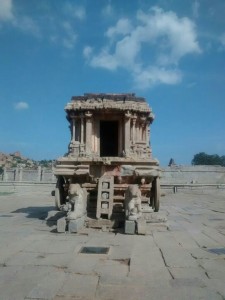 Vittala temple: It is the only temple which is a bit far away (about 5km) from the Hampi bus stop. You need a UNESCO ticket to visit this too, but the ame ticket holds good for both lotus temple and Vittala temple. The pillars of the temple were structured in a way which produced music and they still do. A guide would generally be around showing you and describing about the history of the temples.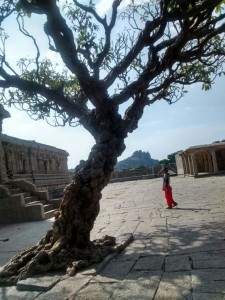 You can go by bicycle or bike to visit these places and it can all be done in a day. We were however tricked by the rickshaws into paying 400 Rupees for a 2-3 hour tour of all these places. You can most definitely get rickshaws for a cheaper price.
Overall the trip to hampi was more than satisfactory and I would love to visit the place again just for the peace and happiness it provides my silly heart.