Nirbhaya gets justice. The 23 year old girl who was brutally raped and had died in 2012 finally gets justice as the Supreme court announced death sentence to all the accused. One of the accused had allegedly committed suicide in the Tihar Jail, while a convicted juvenile was sentenced three years of punishment in a reform home. The other four are going to die. BURN IN HELL, LOSERS!
INTERNATIONAL
German Chancellor, Angela Merkel arrived in Saudi without a headscarf and was greeted by King Salman. Imposing rules on women on religious pretexts needs to be stopped! Not quoted by Infornicle. It's agreed upon by all sensible people.
The world's most heaviest woman, Eman Ahmed from Egypt, who weighed about 500 kg left Mumbai's Saifee hospital after a weight-loss surgery which made her 330 kg lighter. Well what can we say…you need to be careful where you put your food.
TECHNOLOGY
The Geosynchronous Satellite Launch Vehicle-F09 (GSLV-F09) 'Naughty Boy' puts 'South Asia' satellite into orbit. Modi said it is India's priceless gift to its neighbours. India will now have a secure hotline with the six nations that can be used during disaster management and other emergencies.
NATIONAL
2 army soldiers were killed and beheaded by Pakistan Army escalating India-Pakistan tensions. Union Defence Minister, Arun Jaitley says that this was an extreme form of barbaric act and their sacrifice will not go in vain.  Martyr Prem Sagar's daughter now want 50 Pakistani heads for her father's sacrifice. Pak denies as always… but the proofs say otherwise, dear neighbour! Pakistan is like the cousin Bhalladev trying to outsmart Bahubali. As if!
Aadhaar needs to be linked to your PAN card now. This act was mandated to weed out fake cards, and to keep terror and black money in check, the govt said. Way to go! Whatever it takes to keep the nation clean!
Indore is India's cleanest city. More cities need to set Indore as an example and become "Swachh".
WHAT INDIANS HAVE BEEN TWEETING ABOUT 
SPORTS
RCB is out of the finals for sure. Here is the points table. The playoff fixtures are yet to be determined. They begin on 16th May, the final being on 21st of May.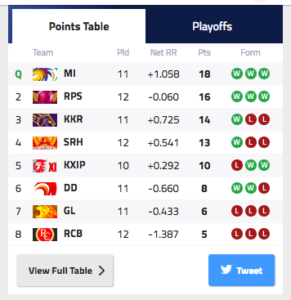 India, the defending champions, will take part in the Champions Trophy after much mulling over a pull out from the series. Yaay! for all cricket fans who were worried they wont get to see the nation play in Champions Trophy.
Indian hockey team may be out of the finals in the Azlan Shah Cup, however they won the bronze medal after defeating NewZealand 4-0