Indian wedding scenes are nothing less than the Indian Fashion Week. The colors and vibrancy can dazzle the beholder. Honestly we all go to the weddings just for two reasons: Food and the beautifully dressed women (including us women, who too like to stare at other women more than the male counterparts). Brides usually get to be the best looking at thier wedding; but the other women are not far from giving the bride a tough competition. We all secretly want to look better than the bride herself, don't we 😉
Being someone who goes for class in everything, I was looking for designs to wear on my best friend's wedding. I wanted something that could match my requirements of Indian ethnic wear oozing style and class. That is when I stumbled upon  Shiny Alexander's designs. I immediately knew the designs would definitely complement my style.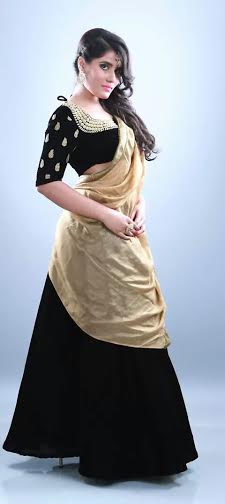 Simple, yet elegant and definitely an eye catcher at parties and events. This attire is sure to give you the grace and poise, not to mention the confidence.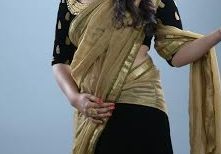 The Dupatta can be worn around to create a half saree effect. The chunky finger ring designed again by Shiny, matches the dress and adds the extra oomph factor to your hands.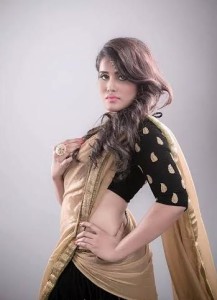 You can draw all the attention to your ring by keeping all your other hand accessories minimalistic.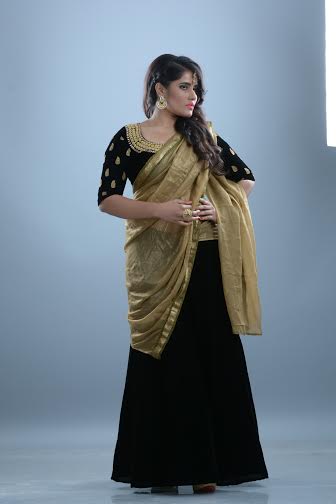 As the neckline of the blouse is embellished, wearing heavy earrings and skipping on the necklace is the way to go.
The hair style has been kept simple here. Straight hair is always in, but there is something sensuous about loose curls falling in tufts across your shoulder. If you want tips on everyday hairstyles, check this out.