Production of the FXX by Ferrari had begun in 2005. A year since LAFerrari was unveiled in 2013; its new variant was unleashed for the first time in Abu Dhabi on the Yas Marina track on December 5, 2014. Ferrari FXX K is a successor of FXX, FXX Evo, 599XX and 599XX Evo. The K in its name refers to Kinetic Energy Recovery System commonly found in F1 cars.
What makes it the most powerful Ferrari made?
The car is endowed with 1050HP, 860HP delivered by V12 Engine and 190HP by the electric motor (while predecessor LAFerrari boasted of 789HP V12 engine and 160HP electric motor). The KERS is inherited from its predecessor, which recovers the cars kinetic energy while braking and stores it under reservoir for later use during acceleration.
This hypercar was designed to be aggressive and claims an acceleration figure of 0-62mph in less than 2.5 seconds.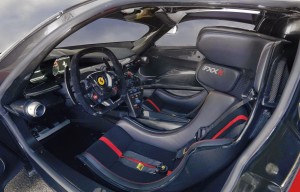 Overview of its technical specifications
The FXX K rides on special Pirelli P-Zero tyres.  They have notable sensors to measure acceleration, temperature and pressure. The car has such speed that the ABS needs to be powerful and easily controlled, thus the provision is given to the drivers to control ABS settings via the steering wheel.
Qualify mode- for maximum power for a short number of laps.
Long Run- renders consistent performance.
Manual Boost mode- delivers maximum torque instantly.
Fast Charge mode- for fast recharge of the car's battery.
What about the external specifications?
FXX K design is generally inspired from LaFerrari but is much longer and wider than its counterpart. It however maintains its height and weighs lesser about 1255kg.
The front has a new twin profile spoiler and large splitter which include a central gap to channel air flow. Along with the large sills running down the sides of the car, they stop air from gathering underneath. Tha absence of exhaust muffler makes the car glass-shatteringly loud.
At the rear, are GT-inspired wings with a retractable spoiler that is capable to extension when in motion. It is designed to boost downforce and help reduce the lift on the car.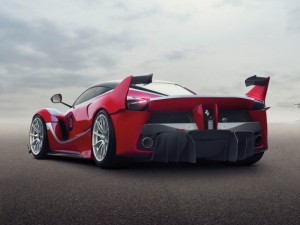 What is the price of this beauty?
Priced around $1 million more than LaFerrari, the total cost of the car is $3.1 million (INR 19.02 crore). The consolation is that it includes 2 years of Corsa Clienti service and you will be the owner of one of the only 40 models of this version in the world.
I am a billionaire. Can I own it?
Unfortunately, this is something money cannot buy. It is already sold out. Also the owners of this car cannot take it back home and drive on the normal highways. You can drive them around only on the company-approved tracks. Now that's not a solace when you shell out the amount for it. You would like to take her out with you and be able to show her off to the world. Don't cha?
Watch Ferrari FXX K on Track at Yas Marina F1 Circuit