Girl, if you're a Bengalurean, feel proud of yourself. You are truly one of a kind. Boys, you better find yourself a Bengaluru girl/ friend if you dont have one. If you do, then don't lose her. Here's why…
1. She is well-informed
You can talk to her about anything in the world- Science, Politics, Culture and even Nuclear weapons 😛
2. 'Susheel'
Sundar and Susheel may not co-exist, of late. But you will still find the qualities in girls from Bengaluru. They are the ones you could take home and introduce to your parents.
3. She is FUN
So what if they are 'Susheel'??? Contrarily, you will also find them partying and enjoying the most too.
4. She is Intelligent
If you see a group of sophisticated looking girls talking about the growing capitalist economy in the country, be rest assured they are Bangaloreans.
Also Read: 12 Must Visit Cafe's in Bangalore
5. Dutiful daughters
A dream daughter. She will listen to her parents, be there at their bidding, and most importantly she will love them more than anything in the world.
6. Loyal girlfriends and wives
While all your friends are breaking up before and after marriage, Bangaloreans make it a point to stick it out somehow. Relationships are more valued by them.
7. Fashionistas
Their dressing is Chic.. They maintain a careful balance between the 'Bhenji' look and over-the-top christmas tree look.
She may be dressed in just a  simple black gown, but you can bet your life that she would still look better than any other girl in dazzling embellishments.
If you're tired of too much drama and want things to stay simple, then you need to meet a girl who can keep the Drama off the charts and still make your life fun and interesting. You don't want me to tell you where to look 😉
9. Adventurous
 She will climb mountains, cross rivers, trek across landscapes, and all this without fretting over her chipped nail or messed make-up. She is one of the dudes, and that can be a highly appealing trait, don't you think?
10. Progressive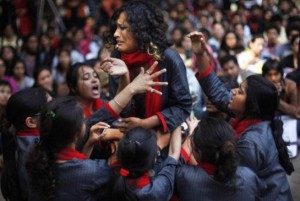 She will not hesitate to initiate a wave. An independent, strong, feminist, social activist and a progressive woman who can stand her ground and motivate the world to follow her vision.
Also Read: 10 Signs That You're Getting Married Soon