Instagram is the topmost social media network in the competitive world. It allows users to share photos and videos via its mobile app. Instagram has seen potential growth from 1 million users in December 2010. Now, more than 1 billion users in 2021. Instagram is the second most used network behind Facebook. Users spend an average of 53 minutes every day on Instagram.
 Additionally, more than 25 million people are using Instagram for their business. For the past two years, the most popular two apps used by Genz such as Instagram and TikTok. Now Instagram has recently launched a new feature reel with its app.
What are Instagram Reels?
Reels allows the user to create or upload 15 to 30 seconds videos, add music and share them with Instagram stories or feeds. Reels are placed in the center of the navigation bar at the bottom of Instagram.
 On the reels tab, instead of seeing reels from the account you follow, you can scroll down to see more reels from the trending and popular accounts on Instagram.
Types of Using Instagram Reels: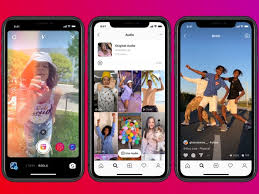 You can create reels in three different ways:
1.The Instagram home screen
To access through the reels tap, hit the camera option on the top right corner.
2.The Instagram stories camera
To access via the Instagram home screen, tap the "+ "on the top right and scroll the reels tap at the bottom of the screen.
3.The reels tab
To access the Instagram stories camera, simplify open the stories camera and find the reels icon next to the story menu.
Use these three types to make Instagram reels.
How to use Instagram Reels:
To get started with reels, open Instagram and tap reels to create videos. 
Explore the editing tools:
Before posting your reels, make use of editing tools on the left side of the camera screen, where you can see four options such as:
Audio:
You can choose audio from the Instagram music library, or it enables you to add pre-recorded audio from other users, or you can select your favorite songs.
Playback speed:
It allows users to add speed to their videos and slow down their reel's speed.
Effects:
By clicking this icon, you can see outlines like emojis. Also, it allows you to add stickers and filter effects to your reels videos. The filter for reels is similar to filters in Instagram stories.
Timmer:
Hit the clock icon to set a timer for your reels videos. With this, you can make a hand-free recording.
Also Read Crazy Dog Lady Project
How Marketers use Instagram reels:
Are you wondering about getting more followers, more engagement, and more exposure? 
The simple answer is to try Instagram reels. Reels has proven to be an excellent marketing and sales tool for business. Here are six ways to improve your business on Instagram reels
1.Introduce yourself and your brand:
Instagram reels offer a great opportunity to introduce yourself and share your brand story with thousands of new audiences. If the user is interested in buying your product, they click your website about page to read your brand story. It takes a long time to do. Instead of allowing your users to do that, you can tell your brand and company story.
You can use these three ways to share your story:
Use texts to all your stories

Edit previous videos together

Talk straight to the camera
Here is a simple example: Natasha(@solstudiomarketing) is an Instagram strategist. She made exciting and creative reels to introduce herself. As a result of this, Natasha got many new followers and got more engagement for her reels. You can also think differently to create reels and increase your brand reach.
2.Promote Your Brand:
Reels is a great way for businesses looking to drive awareness and more sales on Instagram. Instagram has recently announced that reels are now shoppable. It means brands can easily showcase their products to a wider audience. Show your products in an authentic way that resonates with your audience.
Highlight the best and unique features of your brand tell the benefits of using your brand. Showcase your products within three clicks, and if a user is interested in your product, they tap "view product" to learn more about your product and go ahead to purchase, or they save for later use.
Since reels are placed in both reels tab on the navigator bar and the explore page. It is a huge opportunity to promote your brand over a massive audience. 
3. Take Your Followers Behind the Scenes:
Create reels behind the scenes that build relationships between you and your customers. If you are doing this to a wider audience, you are building a great connection at scale. Users are always curious about how your product is made and how it is delivered to the services. Share a typical day's video about your brand to your customers and highlight how your products are suitable for users' daily lives.
Posting behind-the-scenes videos help you to make an excitement with your audience. If your viewers have engaged with your content, you will gain more engagement and get real Instagram reels likes for your videos. You can also use reels to show your day to day life of your business.
4. Educate your Audience:
The best way to use Instagram reels for your business is to share educational videos. You can share unique techniques to use your brand and show how to get quick results from the service you offer them. Make educational content, which your followers easily understand.
You can also create exciting FAQ reels that answer the common question, and it will help you connect with your audience. Show your followers how to style your brand and tell them how your products will change their lives.
5. Share Your Reels to Instagram Stories and Feeds:
When you are done with creating reels, you are allowed to share your reels in the two ways.
Instagram stories:
If you want to share your reels to stories, hit on the stories icon on the share screen and tap the share button next to your Instagram stories, and you can also share with your close friends or individual groups.
Instagram feeds:
If you are interested in sharing your reels on feeds, you are directly allowed to share feeds with your friends.
You can also add captions to your video and use hashtags that are related to your business and share them on stories or feeds.
6. Delete Instagram reels or Remove From Grid Profile:
Once you upload your Instagram reel videos to your profile, you can see each video's view count. The view count is also visible to the people looking at your reels videos.
If you hit the three-dot button next to comment, like, and share icons at the bottom of your reels. From here, you can access additional features for your video like:
Delete your videos from the reels tap

Remove from grid profile

Share the videos links to other platforms

Allows you to save the videos to your mobile
You can use this feature to remove your reels.
Conclusion:
Instagram reels were much-expected, and many brands are using this platform to promote their brands and improve their sales. People are recreating their TikTok videos to reels. If you want to stand out from the crowd, focus on creating unique videos to increase your brand voice.
Always track your Instagram matrices to check out how many times your reels "liked" and "shared," this matrix helps you create future content for your business in 2021.
Author Bio:
Caterina Taylor is an experienced social media marketer and writer who works at PlanYourGram.com. She loves to work on content creation for social media blogs and has the potential to deliver engaging content on various platforms and networks.